When designing a backyard, homeowners often want to include a pool.
Whether they plan to swim laps or simply relax in the sun, pools add value to homes. They also provide a great place to entertain guests.
The answer depends on several factors, such as the size of the pool, the type of deck or patio, and the height of the building. Your local municipality rules will also play a factor, we have found that a good rule of thumb is to have above ground pools at least 10 feet away from the house and have inground swimming pools at least 25 feet away from the house.
What about those wanting to also build a deck or patio? How far away from a swimming pool should you build a deck or patio?
A pool is typically built around a concrete slab, which is poured into the ground. If you want to create a deck or patio near a pool, you'll need to consider the distance between the two structures.
Pool Deck Distance
The first step when planning your backyard is determining how close you want to put the pool to the structure that will support it.
You may decide to have a small deck by the side of the pool or an expansive one that extends all the way down to the water's edge.
If you're planning to build a deck or patio that extends all the way to the pool, you'll need a strong foundation.
A deck made from wood or metal supports will not withstand the weight of a large pool. Instead, use a reinforced concrete slab for your foundation.
You'll also need to determine what kind of decking material you want to use. Concrete slabs are usually available in various thicknesses, ranging from 4 inches to 8 inches thick. Choose the right thickness based on the size and capacity of your pool.
You can also buy prefabricated decks and patios that come with a variety of materials, including composite deck boards and cedar decking.
How Close Can I Build My Swimming Pool To My House?
Once you've determined where you want to position the pool, you'll want to know the answer to how close can a pool be to a house? To figure out how close you can get to the pool without compromising its structural integrity.
There are three main types of pool construction: above-ground, partially buried, and inground.
Each has it's own advantages and disadvantages, which we breakdown below.
Above-Ground Pools
An above ground swimming pool is the most common and budget-friendly style. It sits directly on top of the ground.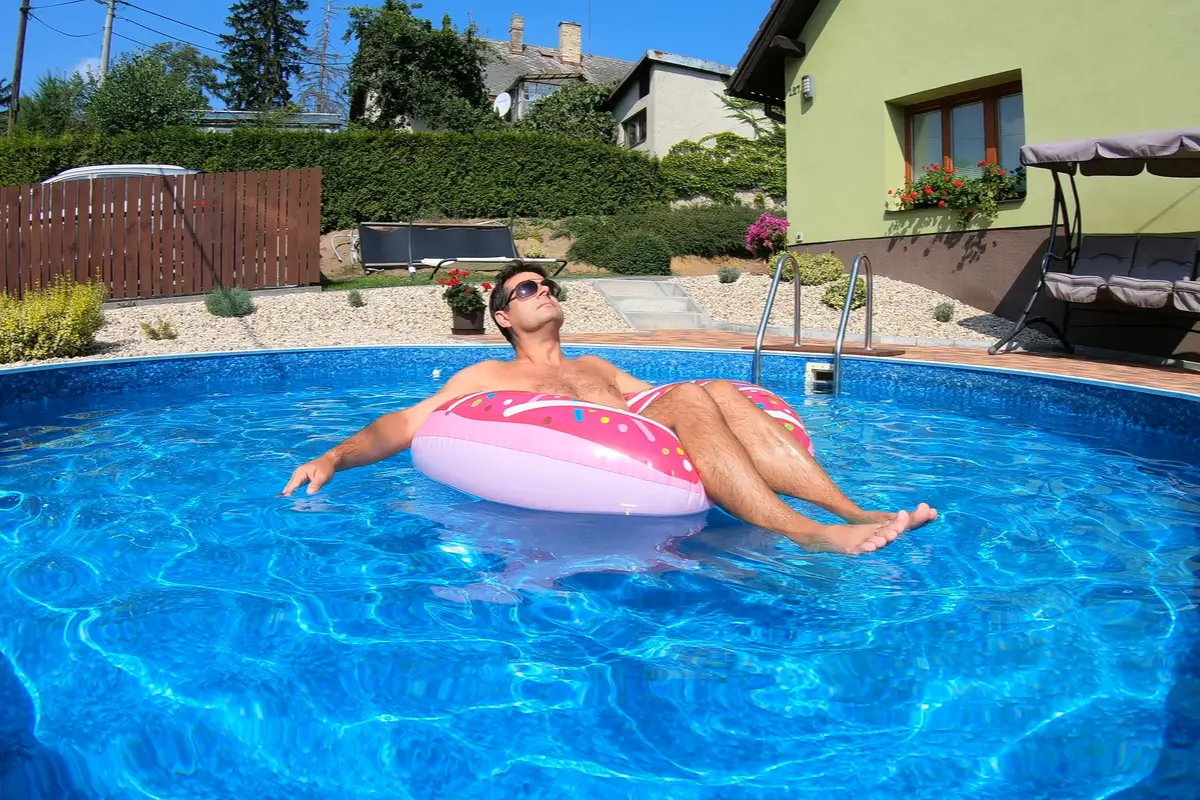 This type of pool is easier to construct than other styles because it doesn't require digging a hole for the concrete slab.
However, this type of pool requires more maintenance than other designs.
For example, you must drain the pool regularly to prevent mold growth.
Also, if you live in an area prone to flooding, an above-ground pool could become damaged during heavy rains.
Partially Buried Pools
A partially buried pool (also known as a semi-inground pool) is constructed partially under the ground level on a concrete foundation.
This type of pool requires less maintenance than an above-ground pool because there are fewer areas for mold to grow. They can also be a great option for those wanting to install a pool on a sloped yard.
However, it does take longer to build than an above-ground design.
Inground Swimming Pools
An inground swimming pool (or totally submerged pool) is built entirely into the ground.
The only access point is through a pool ladder leading up to the surface.
This type of pool provides the best protection against water damage.
However, it takes the longest time to build, and it's far more expensive than the two above types of swimming pools.
Here are some things to consider before installing a swimming pool:
How much space do you have?
Is the area flat or hilly?
What kind of soil is underneath?
Does the location receive direct sunlight?
Will the pool be used year round?
Do you plan to add a spa?
Are there any trees nearby?
Is the property zoned for pools?
Is there a septic system near the site?
Is there anything else around the pool?
Where will you store the pool equipment?
How deep should the pool be?
How wide should the pool be? (The width of a pool determines the number of people who can swim at once.)
Pool Construction Tips & Tricks
When building a swimming pool, make sure that you follow these tips:
Hire or consult a professional swimming pool contractor.
Get bids from several different contractors.
Make sure the contractor has experience working with concrete.
Ask questions about the project.
Be aware of local codes when selecting materials.
Consider hiring a landscape architect.
Keep the size of the pool small enough so that you won't feel crowded.
Plan ahead. Determine how many people will be using the pool.
Choose a color scheme that complements your home's exterior.
Think about adding a spa.
If you're planning to use the pool all year long, choose a material that resists fading.
Add safety features such as fences, gates, and lighting.
Install a pump and filtration system, and consider where this will be located.
Build a deck if desired.
Distance From The House & Other Structures
In general, the closer a swimming pool is to the house, the higher the risk of structural damage or issues down the road.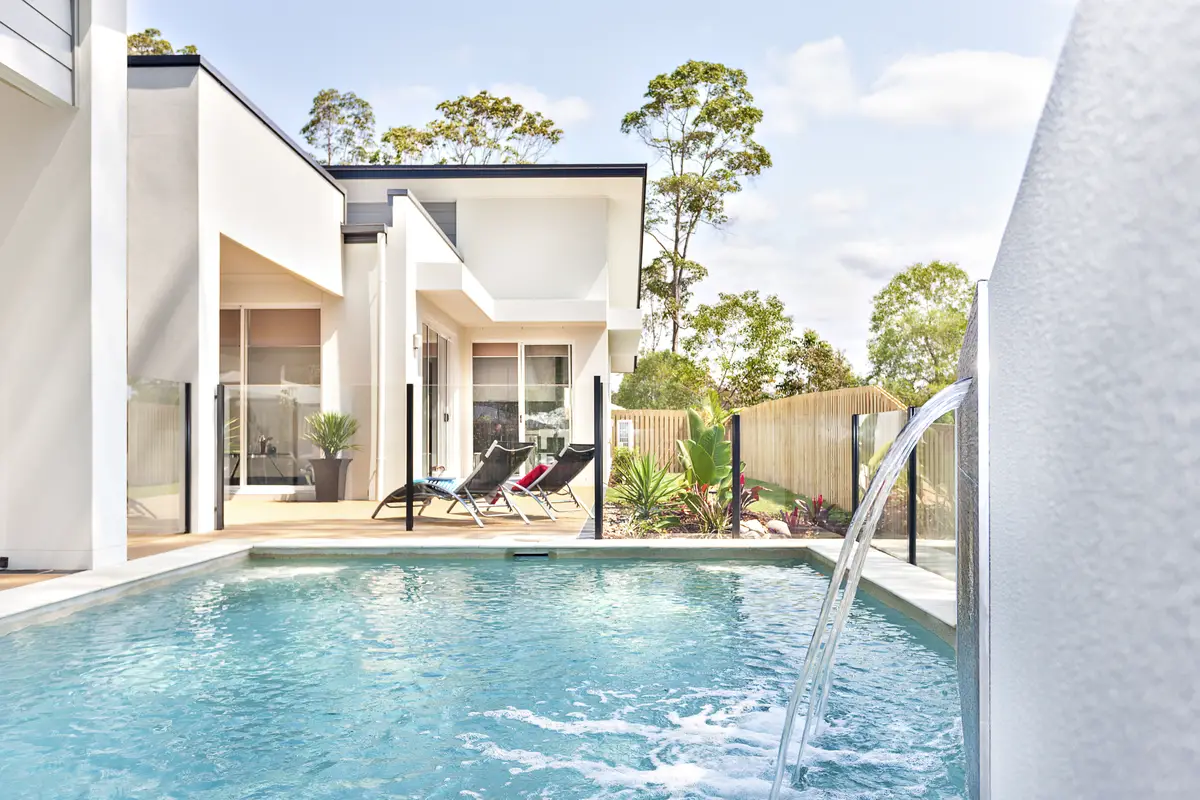 In addition, the closer the pool is to the house or garage, the greater the chance of the pool being struck by lightning.
If you want to install a pool in an open field, keep in mind that the pool may not provide adequate shelter from strong winds.
You'll also need to worry about erosion caused by rainwater runoff.
If you decide to install a pool in a wooded area, be careful not to cut down too many trees. A tree falling on top of the pool could cause serious damage.
If you live in an earthquake zone, check with your insurance company to see whether you need to get additional coverage.
The national standard states that all outdoor swimming pools should be 10 feet away from any house walls.
This is mainly to protect any electrical wiring from being damaged by flooding or splashing water from the pool.
Check the local regulations and standards from your local authorities.
Waterproofing Your Swimming Pool
You can waterproof your pool yourself, but you must first determine what type of waterproofing you need.
There are three types of waterproofing available today:
Waterproofing with a membrane
Waterproofing with fiberglass
Waterproofing with polyethylene
A membrane is applied directly over the concrete. It consists of two layers of plastic film sealed together with a liquid adhesive. The membrane is then painted with latex paint. Membranes come in various thicknesses and colors. They last up to 10 years.
A fiberglass coating is made of glass fibers mixed with resin. Fiberglass is more expensive than other forms of waterproofing because it requires special tools and techniques. However, fiberglass lasts longer than membranes.
Polyethylene is a thin sheet of plastic that comes in various sizes and shapes.It is used primarily for decorative purposes. Polyethylene is less durable than other types of waterproofing. It does not require any special equipment to apply.
Our Conclusion on The Distance Between A Pool And Your House
When it comes to how close a swimming pool can be to your house, the decision to build a swimming pool should be based on your personal needs and desires, as well as your local municipality
When it comes to how close a swimming pool can be to your house, the decision to build a swimming pool should be based on your personal needs and desires, as well as your local municipality
When it comes to how close a swimming pool can be to your house, the decision to build a swimming pool should be based on your personal needs and desires, as well as your local municipality's rules and regulations.
Before deciding which type of pool to install, consider the factors that we have laid out above. Once you've decided which type of pool is best for you, contact a professional who can help you design, install it, and make sure it is an appropriate distance away from your house.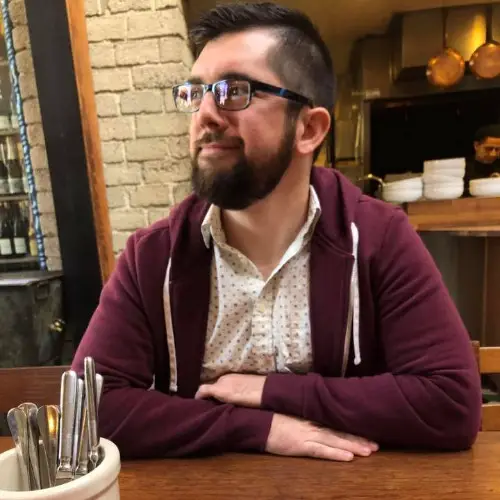 Hello, I am a writer and marketing specialist in Kansas City, MO. My love for swimming pools started as a child when I would visit my aunt & uncle's inground swimming pool on a frequent basis over the summer. Since then I have taught swimming lessons at a Boy Scout Camp, participated in the full setup, installation and maintenance of my father's inground swimming pool, as well as enjoyed constantly researching everything there is to know about swimming pools for 5+ years. I enjoy all water related sports, being part of the online swimming pool community and always learning new things!