Quality Swimming goggles do a great job at keeping your vision clear if you want to swim underwater.
There are many high-quality goggles professionals and athletes use to enhance their skills, but if you are more interested in leisurely enjoying the pool in your backyard, you don't need professional-level goggles. To help you find the right gear, we came up with seven of the best swimming goggles to use in your pool (and reviewed each one individually).
Each swimming goggles were reviewed according to comfort, seal quality, visibility, and more. By the end of our reviews, you should have a better idea as to which of the best swimming goggles fits your needs more.
Why Even Buy A Good Pair of Swimming Goggles?
There are a handful of advantages to owning a good pair of swimming goggles even if you are just using them for your pool at home.
Clearer Vision
The best swimming goggles are capable of enhancing your vision while underwater. You may not be doing any snorkeling at home, but if you dive into the water, it can benefit you to be able to actually see where you are. It can also allow for some fun underwater games that anyone is sure to enjoy.
No More Burning Eyes
It's all too common that people experience irritation with their eyes after swimming thanks to the chlorinated water and saltwater. A good pair of swimming goggles will provide a protective seal to prevent water from getting into your eyes. Children learning how to swim can feel more comfortable in the water this way.
Comfort for Those with Corrective Lens
If you wear contacts or glasses, swimming goggles can make sure that you don't have to sacrifice your sight and comfort to have some fun. For contact wearers, the benefits are clear as swimming goggles can prevent water from damaging your contacts. For those that wear glasses, there are even some swimming goggles that can be custom-fitted for prescription lens.
Now… let's dive into our team's tested and reviewed swimming goggles!
7. Speedo Hydrospex Swim Goggles
These are some of the best swimming goggles for your casual use in your backyard pool. They're 95% UV protected and anti-fog and they're available in clear, blue, or smoke ice. You get an outer eye fit that's universal, and they're built with hypoallergenic PVC frame. In general, the lenses are shatter-resistant, but the goggles themselves don't seem built to last long. Even so, they're inexpensive and easy to replace.
Pros
Good peripheral vision
Conforms well to the face
Strong seal
Cons
Plastic can scratch easily
No retainer for excess strap
Anti-fog doesn't last long
6. Swim Elite Kids Swim Goggles
Swim Elite has a pair of kids swim goggles designed for ages 2-8. You can find them in blue, pink, green, or rainbow (with a clear lens), and they come with a car-shaped hard case for carrying. The frames are silicone, and they're hypoallergenic and odorless. They're 100% UV protected and offer a 180-degree vision. Though the straps are easy for adults to adjust, some kids may have problems without help.
Pros
Good anti-fog coating
Secure fit
Soft rubber material
Cons
Straps can become lose
Nose bridge piece can be too long
Questionable durability
5. COOLOO Swimming Goggles
With these swimming goggles, you can receive two for the price of one, a useful feature if there's someone else at home that wants to swim. They come in multiple colors as well for more personalization, and some include ultra mirror lenses for greater UV protection and clarity. However, some do experience blurriness still. The goggles can create a strong seal though that's comfortable, and the straps are ergonomic. Some goggles come with attached earplugs for convenience.
Pros
Easy to put on and take off
Flexible, soft material
Holds out water well
Cons
Slight vision distortion underwater
Anti-fog coating wears off fast
Nose guard can slide
4. Aegend Swim Goggles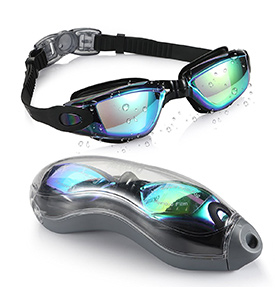 The Aegend Swim Goggles uses premium silicone material, and they are secure enough to provide a snug fit to various facial forms. Both the inner and outside surfaces of the lenses are coated with anti-fog and UV protection. However, it's easy to remove the anti-fog properties, and there's also no indication of the level of UV protection you receive. They come in various colors and lenses (e.g. mirrored, clear, and tinted).
Pros
Straps are easy to use
Material is well-constructed
Reliable seal
Cons
Uncomfortable nose piece
Can fog up
Blurry underwater vision
3. Aquazone Adjustable Swimming Goggles
With the Aquazone Swimming Goggles, you can have protective swimwear for the whole family to enjoy at home thanks to how easily they are adjusted. They come in an aqua or red color, and they are made with water-tight, shatter-resistant lenses. These mirrored lenses are UV400-resistant, and they offer a good amount of clarity. Though they may not last years down the road, they're an affordable option for those who use them occasionally in a home pool. You can also get a protective case and bonus earplugs.
Pros
Conforms well
Secure water seal
Stays in place
Cons
The anti-fog coating may not hold up long
Difficult swapping nose bridges
Doesn't provide a large field of vision
2. TYR Youth Tie Dye Swimple Goggles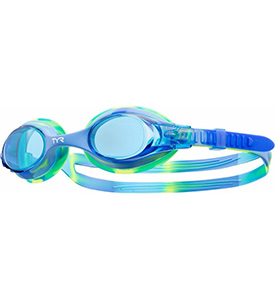 TYR Youth Tie Die Swimple Goggles are the best swimming goggles for kids. They're available in multiple fun colors, and they feature a kid-friendly secure release button so kids can take them on and put them on with ease. Made from polycarbonate lens, they're UVA/UVB protected with anti-fog properties. They're constructed from hypoallergenic silicone gaskets that offer comfort and a secure fit. The goggles are comfortable enough for playing in a small kid-pool or splashing around in the family pool.
Pros
Durable build
Adjusts quick and easy
Good vision quality
Cons
Straps can get uncomfortable around ears
Can sometimes leak
Nosepiece isn't adjustable
1. POY Swim Goggles
The POY Swim Goggles are the best swimming goggles in terms of durability. They're available in clear or mirrored lenses, and you can find them in either black or blue. They utilize a cushioned double seal design around the eyes, and the back has a quick-release clasp for simple adjusting and removing or putting on the goggles. The lenses are shatter-proof, and they have UV400 protection and anti-fog properties. You also receive a protective goggles case that's helpful for travel.
Pros
An easy-to-use clasp on the back
The minimal pressure around the eyes
Comfortably snug seal
Cons
Can pinch around the nose
Non-adjustable nose piece
Easy to scratch lenses
Enjoy Your New Swimming Pool Goggles!
We hope you enjoyed this guide on how to choose the best goggles for swimming pool use!
Although there are many swimming goggles for professionals and hobbyist, the best swimming goggles for use in your home pool should perform the basic tasks of keeping water out of your eyes and offering better vision and protection while you swim.
Have you tried any of the best swimming goggles we reviewed? Share your thoughts in the comment section.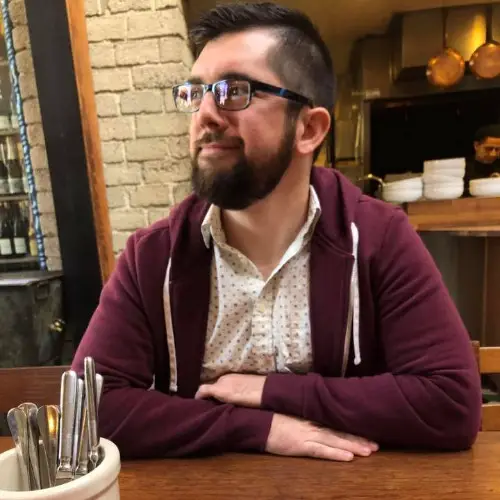 Hello, I am a writer and marketing specialist in Kansas City, MO. My love for swimming pools started as a child when I would visit my aunt & uncle's inground swimming pool on a frequent basis over the summer. Since then I have taught swimming lessons at a Boy Scout Camp, participated in the full setup, installation and maintenance of my father's inground swimming pool, as well as enjoyed constantly researching everything there is to know about swimming pools for 5+ years. I enjoy all water related sports, being part of the online swimming pool community and always learning new things!