Ever wondered how to build steps for an above ground pool?
We can help with our DIY guide and step-by-step instructions!
For any type of swimming pool, but particularly for above ground swimming pools, one of the most important things that you can invest in is a set of steps.
They are very important in terms of safety, and also make using your swimming pool a lot easier. Especially if your swimming pool is an above ground pool without a desk attached to it.
If you have already spent a lot of money on a swimming pool, the thought of spending a large amount of money on a quality set of pool steps or ladders to go with it can be disheartening.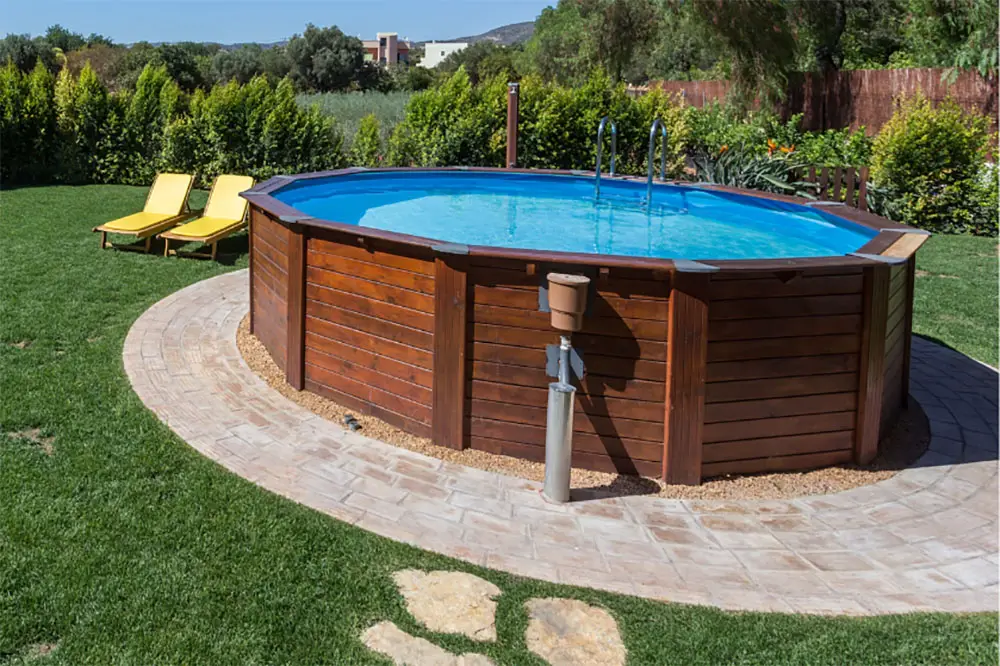 Swimming pools are by no means cheap, and neither are the steps to go with them. But they are something that you need to have if you want to have a safe and easily accessible above ground swimming pool. 
If you want to cut the costs of steps for your swimming pool, then you can make them yourself. In this guide, we'll be telling you how to make steps for an above ground swimming pool yourself!
So, let's dive right on in. 
What You Need To Get Started
There are lots of different methods and materials that you can use to build your own above ground pool steps. In this guide, we've chosen to show you how to build these steps using old pallets.
Like we said, above ground steps are generally rather expensive to buy, which is why we've opted for a cost-effective method to build them yourself. 
In recent years, the true versatility of pallets have been realized, and now people are using them to build all sorts of things.
From dinner tables to shelving to swimming pool steps, it seems you can make pretty much anything using old pallets, and they are always very cost-effective.
Pallets are generally something that people throw away, so you can usually buy them quite cheap, or you can simply repurpose old pallets that you have lying around your house. 
With that in mind, here's a complete list of everything that you will need to build steps for your above ground swimming pool. It is best to gather everything that you need before you get started to make the process as stress-free as possible. 
You will need the following tools and hardware supplies:
3 sheets of marine-quality plywood
6 wooden pallets to repurpose
4-foot by 10-foot outdoor carpet
Paint
Measuring tape
Hand saw
Sandpaper
Drill and wood screws
Waterproof sealant
Paintbrush or roller (personal preference)
Staple gun and staples
Scissors (heavy-duty if possible)
Once you have gathered everything that you need to build your steps, you are ready to get started!
To find out what you need to do next, keep on reading for our step-by-step guide to how to build steps for an above ground pool yourself. 
Instructions On How to Build Steps for Your Above Ground Swimming Pool
When you have gathered everything that we have listed above, you are then ready to start building your steps for your swimming pool.
At times this is a complex process, but as long as you follow the steps and take your time, building your own steps shouldn't be too difficult. With that in mind, let's jump right in.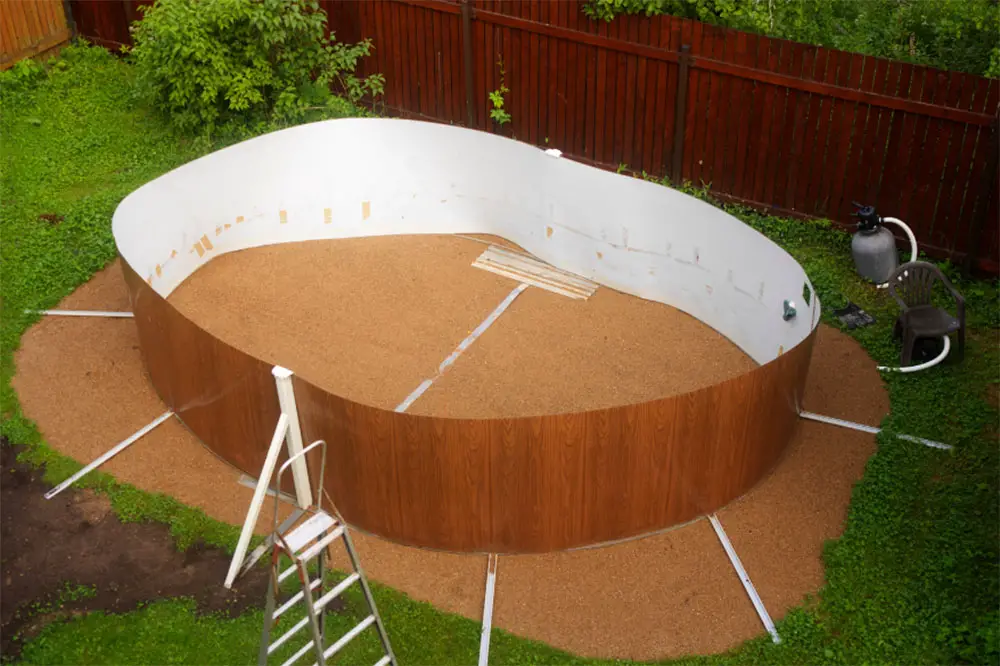 1. First things first, you need to have your swimming pool full when you get started. This is important because you need to ensure that the steps measure to the top of your swimming pool.
2. When your pool is ready, take two of your pallets and stack them next to your pool, ensuring that the narrow side is right beside the pool. You can then move onto your next step. 
3. When you begin working on your second step, cut approximately 1 foot off of the next 2 pallets, and stack them on top of the bottom step.
4. Next, take another pallet and saw it in half, stacking them both on top of the previous step that you have created.
5. Finally, take the last pallet and cut it into two 1 foot sections. These can be used to give the steps extra height if your swimming pool is particularly tall. 
6. After you have created your basic steps, you can then adjust them to suit your pool. Using your handsaw, trim the pallets where necessary to form a solid structure.
7. Once you are happy with it, you can then take your drill and screws to secure the different pallets into place.
8. Once you have secured the pallets together, take your hands and shake the structure to ensure that it is completely solid. If there is any weakness, use screws to secure it in place. 
9. You should then take your plywood and place it flat against the sides of the steps. Ask for an extra pair of hands to hold it in place, then use a marker to trace the shape of the stairs onto the board.
10. Repeat this for the opposite side of the steps, and then cut out the shapes that you have traced using your hand saw. You can then secure them in place using your drill and wood screws. 
11. Next, you need to create the treads for the steps, and you can do this by measuring them. Once you have measured the steps, you can then cut them out of the plywood.
12. Simply secure them in place using nails and a hammer, and repeat for all the steps. Once they are secure, sand down the edges with your sandpaper to ensure that there are no large splinters. 
13. It is now painting time. You can use any color and paint that you want, the choice is entirely yours.
14. Once the paint has dried, apply a coat of waterproof sealant, and ensure that you cover everywhere on the steps. Follow the drying instructions for the specific sealant you are using. 
15. Then it is time to cover the steps with your carpet. Ensure that you leave a few inches loose on either side, then begin pinning it in place using your staple gun. Once the carpet is secure, your above ground pool steps are ready to be used. 
Conclusion On Building Your Own DIY Above Ground Pool Steps
In short, this has been a complete DIY guide to how to make steps for your above ground pool, including everything that you need and how to do it.
So, if you want to make steps for your swimming pool at a fraction of the cost of buying them new, this is the perfect guide for you. Also, if you prefer to watch an instructional video on how to build your own steps for an above ground swimming pool, check out the video below!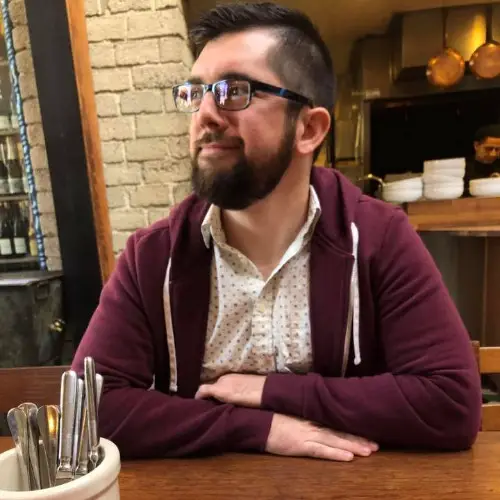 Hello, I am a writer and marketing specialist in Kansas City, MO. My love for swimming pools started as a child when I would visit my aunt & uncle's inground swimming pool on a frequent basis over the summer. Since then I have taught swimming lessons at a Boy Scout Camp, participated in the full setup, installation and maintenance of my father's inground swimming pool, as well as enjoyed constantly researching everything there is to know about swimming pools for 5+ years. I enjoy all water related sports, being part of the online swimming pool community and always learning new things!