Want a complete guide on inground swimming pools vs above ground pools? We have got you covered with our complete guide of pros & cons for both!
If you are thinking of getting a pool to put in your backyard, you may want to consider what kind of pool you will want to get, thus the ongoing debate of getting an above ground pool vs an inground pool.
To start, know there are two main types of pool: inground and above ground. Both look very different from one another and both have their own individual pros and cons. With both trying to get your attention and convince you to splash the cash on them, it can be difficult to work out which type of pool is best for you and your home.
So if you are torn over which type of pool to invest in, then here are all the pros and cons of both above ground pools and in ground pools you need to know so you can keep them in mind when choosing the right pool for you.
Inground Swimming Pools
Inground pools are the absolute epitome of the American dream – they make your yard look amazing and fit the whole picket fence postcard image perfectly.
Inground pools come in a variety of materials. You can choose from a fiberglass pool to a concrete one. They can also be customized to fit your style and needs, from adding a diving board to easy access steps leading down into the water.
But are inground pools all that perfect? Or are they more hassle than they're worth?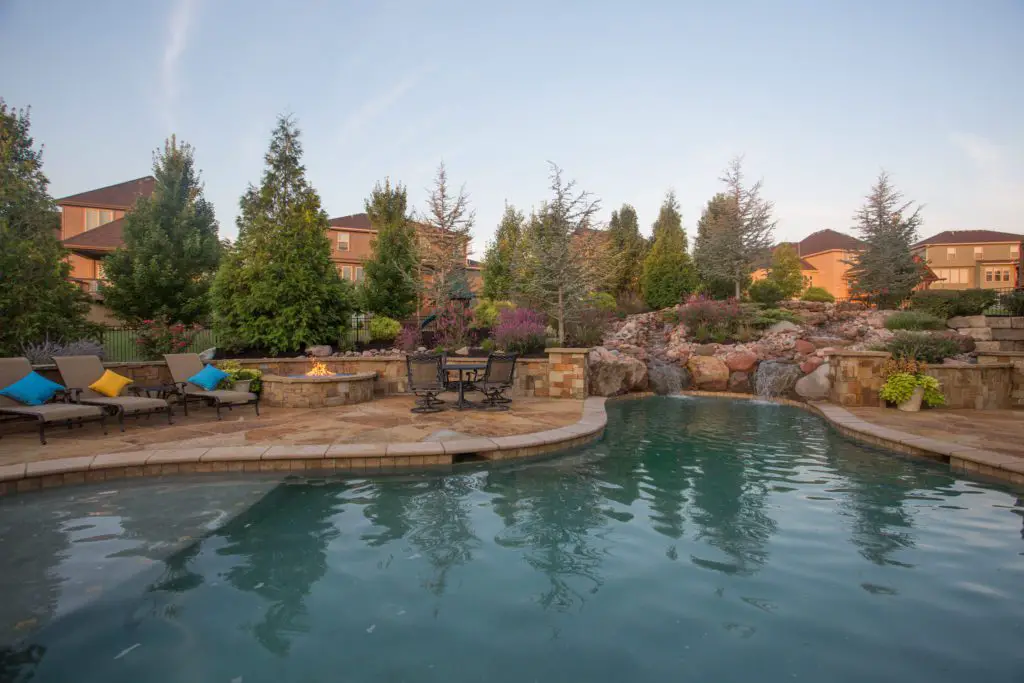 Pro #1: Your Own Lifelong Water Park
Buying an inground pool is a lifelong commitment. Once it's there – it's there. You will now have your forever pool, which means lots of summer fun in your backyard without the hassle of travel or tickets. The moment the temperature begins to climb, you can just dive right in.
You will never have to visit a water park again! No more travelling long distances, hauling bags of luggage and inflatables, worrying about access to showers and bathrooms – all you'll have to do is nip outside with a towel to enjoy the experience of your very own private water park.
When you decide to purchase an inground pool, you can design your pool and customize it any way you like. You can make it huge or small, modern or traditional. Want to add a diving board or water slide? Go ahead – the pool is already there for you, and it's not going away any time soon. You can even add features like heaters and underwater lights with ease, making your in ground pool your very own.
Basically, your inground pool is well protected and long lasting. While other pools may fall apart or be damaged, inground pools are dug into the ground and are protected from any kind of weather phenomenon. You don't have to worry about your pool being wrecked by high winds – once the storm has passed, your inground pool will be left unscathed and is sure to last for many, many years to come.
Pro #2: Increase Property Value
Deciding on an inground pool has an added bonus – it's not just a purchase, it's an investment. The money you sink into building your inground pool will not go to waste. When it is time to move on to a new home, you will earn back the money you spent in your inground pool back on the property value of your house.
Houses that feature inground pools are more expensive to buy, but can sell like hotcakes to families wanting to live that suburban dream. If you ever choose to sell your home, an inground pool will increase its value so you end up getting more for your home than what you bought it for. All the time and money you put into your inground pool will not go to waste as you will earn it all back when you sell your house for a higher price.
This makes adding an inground pool worth it. Not only will you enjoy years of water-related fun in your own backyard, saving you on water park tickets, but you will also earn that investment back when you sell your home to move onto bigger and better prospects.
Although exactly how much an inground pool adds to property value does change with the market and inflation, it does on average increase your property value by a minimum of 5%. That 5% can cover the cost of installing your inground pool, and then go towards whatever your next project will be.
Con #1: Dangerous For Pets and Wildlife
We have all seen the clips and videos online – an animal strays into an inground pool, struggles to get out, and has to be rescued by a brave individual or another animal. While these clips may be heartwarming to see online or on TV, no one wants them to be a part of their reality.
Inground pools can pose a danger to wildlife and animals, including your very own pets. A simple fall or stumble could result in your beloved dog ending up in your pool and they may struggle to get back out again. Unless you are nearby or supervising them while they are out in the garden, then there might be no one there to help your pet get back out of the water.
And it's not just pets that end up losing their lives due to inground pools – bugs, squirrels, deer, snakes, mice, and even ducklings can end up trapped in an inground pool and struggle to climb back out. It's not an uncommon occurrence to find dead animals in your pool after they have grown too tired trying to keep afloat and have eventually drowned.
Unfortunately, this occurrence is not just limited to animals – it can easily happen to people as well, especially small children.
These kinds of situations can be avoided, however, through the use of a pool alarm or a safety turtle (an alarm that sounds off when it is submerged). Installing steps can also make it easier for animals to climb out of the water and out of danger, but not every animal or child can easily swim to these steps to use them.
This is an issue to keep in mind if you have pets or small children. Unless you can guarantee their safety, perhaps an inground pool is not the best option for you.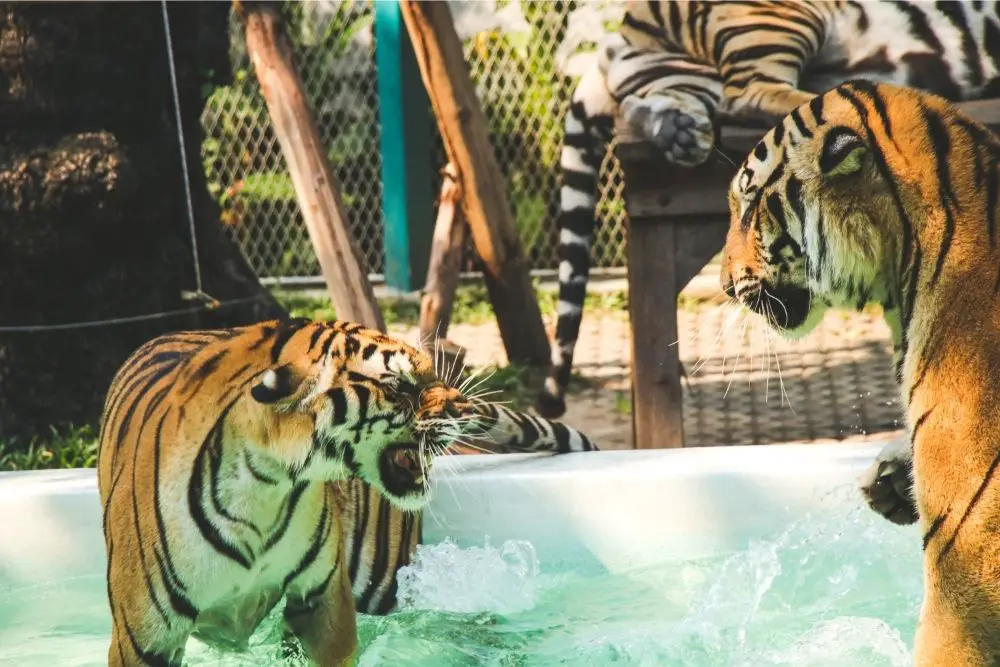 Con #2: Costs and Maintenance
Installing an inground swimming pool can be expensive as it includes a lot of work and materials to build one. The process involves digging a very large hole in your garden and it requires a lot of specialized equipment and materials to do so. Although you can make this money back when you sell your property, if you are planning on this to be your forever home, then all that money is literally going straight into the ground.
Also, it's not just costly to build and install an inground pool – it is also costly to maintain one. An inground pool requires a lot of time and attention in order to keep it suitable for use. You have to regularly check your pool's pH and chlorine levels, and if they are too low, then you cannot use your swimming pool without putting yourself and others at serious health risks.
You may be tempted to try and avoid this by opting for a saltwater pool but this can cause metal components of your pool or solar swimming pool cover to rust and corrode. And if algae and debris begins to build up, you will need to either clean your pool or hire someone to do it for you.
Either way, an inground pool requires constant maintenance which not a lot of pool owners are prepared or educated enough to do. Some may think it's easier to just drain your pool and start anew but your pool is designed to be full of water, so draining it puts your pool at risk of damage due to the exposure and lack of pressure.
If you are considering purchasing and installing an inground pool, be sure you have sufficient funds to do so and enough to keep your pool in shape.
Above Ground Swimming Pools
Let's continue on our debate of inground pools vs above ground pools by taking a deep dive now into the pros and cons of above ground pools.
While a lot of people may jump to say that inground pools are better simply because they look nice and last for ages, there are plenty of advantages to an above ground pool too. You can have just as much fun in an above ground pool compared to an inground one, and you kids will hardly know the difference.
They also tend to be shallower, so they are safer for small children and pets. If all you want is an affordable way to keep your kids occupied and have some fun yourself in the summer, then an above ground pool ticks all the boxes.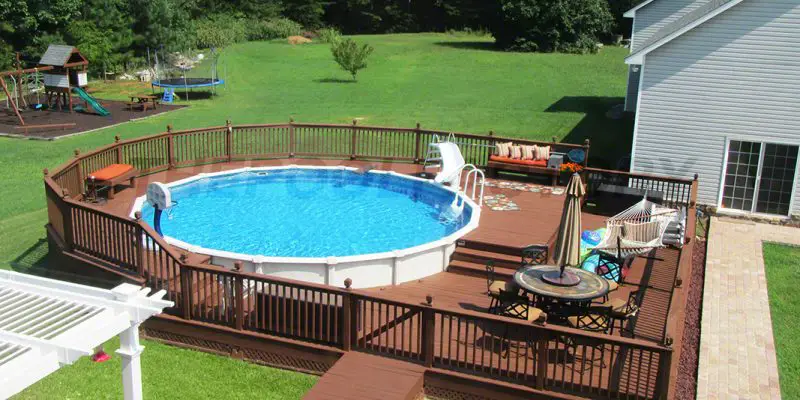 Pro #1: Affordability
Not everyone has thousands of dollars lying around to throw into building an inground pool. If you want all the fun of an inground pool but at half the price or less, then you should consider buying an above ground pool.
An above ground pool still provides you with all the hours of fun that an inground pool does, but for way less a price. This means that all that money you have saved opting for an above ground pool can be put towards other fun things to do with your kids or to further upgrade your house in other ways.
You don't need to fork out thousands of dollars for a pool, and an above ground pool is an affordable option to consider if you do not like the idea of channeling a huge chunk of your savings into a swimming pool.
Pro #2: Easy Installation and Maintenance
As an above ground pool is elevated, it is a much less dangerous option when compared to inground pools. Not only that, but part of the affordability comes in where installation and ongoing above ground pool maintenance is involved.
The elevation means that stray animals and bugs are less likely to fall into the water, meaning that you can enjoy a cleaner pool that requires less maintenance. It also means that the pool is easy to get to in order for repairs, saving you money and stress. It is easy to install as all you have to worry about is finding a large enough space for your pool. No digging is required, and you can disassemble and assemble your pool if you ever need to move its position for whatever reason. Some families even disassemble their pools for the winter and store them away so they won't get damaged by the cold weather.
And if you decide to move away and find a new home elsewhere? You can just take the pool down and bring it with you. While homeowners with an inground pool have to wave goodbye to their pool (and all the money they sunk into it) you can just disassemble yours and bring it to your new home.
Con #1: Can Be Easily Damaged
Unfortunately, an above ground pool also comes with a few disadvantages – one main one being that its elevation leaves it exposed to the weather. Strong winds and bad weather can lead to your above ground pool suffering from damage. Hail and snow can hurt your pool's walls, unless you are able to store it away somewhere for the winter. Overall, this means that your above ground pool may not last as long as you want it to.
An above ground pool has a lifespan of about 7-15 years, whereas an inground pool is permanent. As long as you take good care of your pool and try to protect it with shelters or decking, then it should last you a very long time – long enough for the kids to grow out of it, at least.
But Mother Nature can be cruel, so the exact lifespan of your above ground pool is never truly certain.
Con #2: Limited Versatility & Customizability
An issue some families may have with above ground pools is the lack of versatility and customizability. Due to the shallowness of an above ground pool, you can hardly install a diving board without risking serious injury.
You can't also install lights or heaters like you can with inground pools, although there are small cool options for above ground pool lights, and inflatable above ground pools come with ugly pumps that may spoil your garden's landscaping.
They're not the prettiest of pools, unless you want to make some fancy decking – but then, if you want a pool you can just stumble into, then why not get an inground one?
Our Conclusion On Inground Pools Vs Above Ground Pools
So there you have it, the pros and cons of both above ground swimming pools and inground swimming pools.
It's always important to remember why you want a pool in the first place and who will be using it on a regular basis. Safety should always be paramount, especially when it comes to children and pets, but other factors like cost and durability should be considered too.
Ultimately, when considering an inground pool vs an above ground pool, you want something that lasts long-term, fits in your budget, and will provide you and your family with hours of enjoyment which both kinds of swimming pools can provide.
Both above ground pools and inground pools can be great options, so pick what makes most sense for your budget and desires.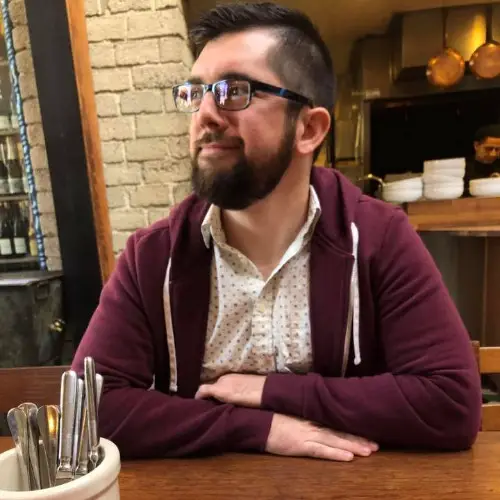 Hello, I am a writer and marketing specialist in Kansas City, MO. My love for swimming pools started as a child when I would visit my aunt & uncle's inground swimming pool on a frequent basis over the summer. Since then I have taught swimming lessons at a Boy Scout Camp, participated in the full setup, installation and maintenance of my father's inground swimming pool, as well as enjoyed constantly researching everything there is to know about swimming pools for 5+ years. I enjoy all water related sports, being part of the online swimming pool community and always learning new things!