Summer is finally here.
You know what this means, right?
It's time to get out your swimsuit, grab your favorite drink, and relax by your pool in the sun. Unfortunately, you've just noticed that you don't have an awesome diving board for everyone to enjoy, or that your existing diving board needs a replacement.
Enter: Your search for the best diving board for your swimming pool.
It can be a tough call to make if you haven't shopped for a residential diving board before. Not to worry, we've got your back.
In this article, we'll recommend some of the best diving boards you should consider for your home pool.
Quick, To-The-Point Version
Short on time? We got you.
Take a quick look at our 5 favorite swimming pool diving boards available on the market in 2020 before we discuss their features in-depth below.
Our Comprehensive Reviews & Buyers Guide
After putting a lot of factors into consideration like performance and flexibility, we've picked 5 products that you might want to check out. Let's dive in!
1. S.R. Smith 66-209-268S2-1 8-Foot Fibre-Dive
We begin our list with Amazon's Choice and a best seller for the swimming pool diving board category. There's no wonder that, with its great features, it's earned a lot of popularity among users. Let's find out why.
The first thing that makes it our top product is its structure and manufacturing. 
This diving board comes with a SureFoot non-slip tread to ensure safety for you and your kids. As you know, their feet will be wet when they step on it, and you want to be certain that no slippage can occur.
Another positive point about its structure is its sturdy stainless steel hardware. Not only is it strong enough to withstand about 250 lbs of weight, but it's also corrosion-resistant. Therefore, you can expect it to last you a while before you need to replace it.
You can choose from 6, 8, or 10 feet boards depending on your pool size. Picking the right size that matches your pool is important to prevent accidents and injuries. We'll discuss how to do this later on.
The general vibe of user reviews about this diving board was positive. A lot of people loved that it's easy to install. 
Since it comes with the mounting hardware, you won't need to purchase a hardware kit, which can save you some cash. Also, it's great for kids and adults alike, as long as you don't put too much weight on it (over 250 lbs).
Pros
Easy installation
Comes with mounting hardware
Solid construction
SureFoot anti-slip surface
Available in 6, 8, and 10 feet
Cons
Not recommended for heavy use
Some users claimed that it needed to provide more spring
2. Inter-Fab DS8BW 8-Foot Diving Board Replacement
The second item on our list can be a bit more pricey than the previous one, but it might be worth it. Check out its features and you may come to the same conclusion as well.
This Inter-Fab diving board offers you safety and sturdiness because it's made with top-notch materials. It's constructed of a laminated wood core with a protective fiberglass coating for maximum strength.
Surely, it's equipped with an anti-slip surface. Furthermore, its outer layer is made of UV-protected acrylic to ensure durability and weather-resistance.
Enough talking about its build. Let's discuss how easy the installation is. 
For starters, it comes with 3 pre-drilled holes and stainless steel hardware. Additionally, you should find the instructions simple to follow. If you're not that good with printed directions, you can visit Inter-Fab official website where you'll find informative assembly videos.
Another great point that we loved about this diving board is that it's available with a 3-year warranty. 
All in all, the majority of people thought that this board did a pretty good job combining high-quality materials and a reliable structure.
Pros
Easy and quick assembly (takes about 5 minutes)
Comes with laminated wood core with fiberglass coating
Weather-resistant acrylic outer shell
A 3-year warranty
Cons
Some users complained that the pre-drilled holes didn't match their configuration
Situated a bit on the expensive end
3. Inter-Fab DB6BW 6-Foot Diving Board
Now, if you're on a tighter budget, you might want to take a look at this nice diving board by Inter-Fab. Just like its sibling, it features a lot of qualities that make it a favorite to many.
In fact, the only differences between the two models are the price and that this board is intended for lighter use. For some people, picking this board seems like the perfect bargain.
To make sure that you get a long-lasting product, this Inter-Fab board comes with a dual-beam laminated core. Also, let's not forget that its skid-resistant acrylic surface puts your and your kids' safety first.
Ultimately, it comes pre-drilled with two holes to make installation easier. In addition to that, you shouldn't need to spend more money on a hardware kit because this diving board includes stainless steel hardware.
Concerned about the assembly? Not to worry, the instructions are pretty clear to keep up with, and you can look up their official website for helpful videos.
This board by Inter-Fab offers a unique balance between affordable price, sturdy materials, and a long life expectancy. Just follow the directions carefully when installing it and you should be ready for the summer.
Pros
Simple installation
Dual-beam laminated core
Non-slip acrylic outer layer
Comes with stainless steel hardware and easy-to-follow instructions
Budget-friendly
Cons
Might not be suitable for heavy use
Some people complained that it wasn't springy enough
4. S.R. Smith 66-209-598S2 8-Foot Frontier III
If you're looking for something in the top-quality tier, then we recommend checking out this diving board by S.R. Smith. Looking at its multiple colors and wonderful features, it's certainly worth the cost.
We like that it's available in a variety of colors, unlike other products where you might be limited to one or two color options. Here, you can pick from radiant white, marine blue, taupe, pebble, gray granite, and pewter.
Not only can this board wow you in terms of looks, but it also offers the durability you might be looking for. With its SureFoot non-skid tread, laminated wood frame, and fiberglass reinforcement, you can expect it to stay in shape for years.
It's also compatible with most S.R. Smith stands such as Flyte-Deck II, 608 Cantilever, 658 Supreme, and the U-Frame. It's important that you know the type of diving board that works with your stand to avoid facing installation and safety issues.
We admire that it's designed for medium to heavy-duty use, Which explains the higher price. If you tend to host a lot of pool parties for adults, this board should be your number one option.
Last but not least, you should find an instructional video with this S.R. Smith board to give you directions on how to use it properly.
Pros
Easy assembly (takes about 20-30 minutes)
Multiple color choices
Durable and sturdy
SureFoot non-slip tread
Laminated wood frame
Fiberglass-reinforced and Great For Heavy Duty Use
Cons
Expensive
Some people thought that it needed some more bounce
5. S.R. Smith 66-209-588S3T 10-Foot Frontier II
While this diving board might be the most expensive item on our list, you should consider taking a look at its useful perks. For people who host pool parties every weekend, this board can be a life-saving option.
It includes every feature that its siblings can offer. From a non-slip surface and a sturdy build to top-quality materials that can make it last for years of heavy use.
Not to mention that its installation is pretty simple as well. All you have to do is make sure that it matches your pool size and stand.
Also, it comes with mounting bolts and pre-drilled holes to make assembly a piece of cake. If you think you might get lost trying to figure the directions out, you can contact a professional to make sure everything goes right.
Wondering what the majority of actual users had to say about this board? The majority of reviewers were happy after they tried it, with little to no complaints, and claimed it was the perfect diving board replacement!
Pros
Durable build
Intended for moderate to heavy-duty use
High-quality materials
Easy assembly
Comes with pre-drilled holes and mounting bolts
Cons
One of the more expensive options
Less bounce than other boards
Takes on corner damage easily
Things to Consider When Choosing a Diving Board for Your Pool
With all these features, you might get lost trying to choose your pick. Fortunately, we can help you out by giving you some of the factors you should keep in mind before buying a diving board.
Let's start!
The Size of Your Pool
Obviously, the first thing that determines a diving board size is your pool measurements. If they don't match, using a diving board might cause injuries, which is the last thing you want.
Your choice doesn't only depend on the dimensions of the pool, but also its depth. Therefore, before going shopping for a replacement diving board, make sure that you measure the length, the width, and the depth of your pool.
After that, calculating the right diving board measurements is easy using the American National Standard for Residential Inground Swimming Pools.
Materials
Of course, the higher the quality of a diving board material is, the more years it should stay with you. Therefore, you should look for a combination of top-notch materials to ensure its durability as well as your safety.
Your best bet is to pick a diving board with a laminated wood core. It's even better if it's reinforced with fiberglass, resin, or both.
Also, make sure that the outer layer isn't slippery to prevent accidents. Luckily, all manufacturers take special care of this point.
It's important for the outer layer to be able to withstand the weather since it's going to be installed outdoors. Choose one with an acrylic coating that resists wear and tear.
The Price
The price of a diving board can be an indication of its performance and quality. The higher you go, the better options you should get.
However, you can still get a decent diving board at a budget-friendly price. It should combine a lot of basic features that anyone might be looking for.
These include a non-skid tread, a firm structure suited for light to medium use, and 2-3 color options to pick from.
However, if you go for a more pricey diving board, you can depend on its ability to last longer. Not to mention that it can withstand heavy-duty use.
Also, a more expensive board usually comes with a variety of colors to match your taste as well as multiple sizes to choose from.
Usage and Weight Limit
You might've noticed that most diving boards have a weight limit of 250 lbs. This can be enough for the majority of people. Obviously, if you weigh more than that, you must look for a sturdier option.
Let's not forget that some swimming pool diving boards are designed for light use only, while others are made for heavier use.
If you're going to invite adults to a pool party, you'll definitely need a sturdier diving board. But if your use is limited to you and your kids, chances are you won't need a heavy-duty board.
Spring-Loaded Base
Deciding whether you'll need a spring-loaded base depends on your preferences. It can be your best bet if you want more bounce.
Nevertheless, before you purchase one, make sure that the depth of your pool allows for this extra bounce. After all, if you get a spring-loaded base, you'll jump higher into the air. Therefore, you'll need more pool depth to make up for this additional height.
Frequently Asked Questions (FAQs)
We have compiled some of our team's answers to the most common FAQs we encounter surrounding diving boards below. Enjoy and feel free to contact us or comment below if you have any addition questions!
What Are The Different Types of Diving Boards?
There are generally only three different types of "diving boards" that you can choose from: a diving platform, a diving board, or a flexible jump board. While the diving board is the most common, a diving platform is recommended for people who don't want a spring or bouncy action, and a flexible jump board is generally only recommended for competitive or professional use, as it has the most springiness The 5 options we reviewed above all fall in the diving board category, and are best for home use.
How Deep Does A Swimming Pool Have To Be To Have A Diving Board?
A swimming pool's deep end or "diving well" should be at least 8-feet deep, but preferable 9-feet to 12-feet deep in order to safely utilize a diving board. Anything under 7 1/2 feet deep is considered unsafe for diving due to the risk of hitting one's head underwater on the bottom of the pool when diving. Be sure to check your state's regulations around diving boards before installing one to make sure your pool is in line with them.
What Are Diving Boards Made Of?
In the vast majority of cases, a diving board's core is made up of laminated wood, which is essentially several thin layers of wood, all glued and meshed together. Laminated wood is used for diving boards because it is actually stronger than a purely solid piece of wood. the diving board's shell is often made up of fiberglass-coated acrylic.
How Much Are Diving Boards?
Depending on how long of a diving board and what brand of a diving board you get the price range can vary from roughly $400 to over $1500. For example a 6-foot diving board by S.R. Smith could run you just over $400, while a 10-foot diving board by the same brand will be easily over $1,500. Generally speaking, the longer your diving board, the more springiness or "bounce" it will give you when you jump off it into the pool.
Are Diving Boards Illegal?
Simply put, NO. Diving boards are not illegal, but there are different regulations around how deep your pool must be if you have one. Local municipalities often will have their own regulations regarding diving boards, like how deep your swimming pool must be, as well as the height restrictions for the diving board. We do recommend checking with your home insurance company to see if diving boards are covered by your policy, as well as checking your state's regulations around diving boards.
How Do You Install A Diving Board?
Before you even consider getting a diving board, make sure your swimming pool is deep enough and (usually 8 feet deep or more) to ensure safe usage. If you have questions above this for your pool specifically, we recommend you contact a local swimming pool contractor to come do an inspection.
If your swimming pool qualifies for safe usage of a diving board addition, the installation is essentially two steps, first, install metal base (aka the "jig" that goes under your concrete block, and second securely bolt in your board. Due to the regulations and exact installation measures needed to safely install a diving board, it is our team's opinion that this is worth hiring a professional to do and would not encourage it to be a DIY-type project.
What is The Best Way to Keep Diving Boards From Being Slick?
The easiest way to keep your diving board from being to slick is to first remove the board and let it dry, then use a coating kit (like the Olympic Diving Board Repair and Resurfacing Kit or something similar). You can also apply a Rubberized Non-Skid Tape (like Jessup Safety Track) in close stripes across the diving board to keep it from being too slick.
How Long Do Diving Boards Last?
The majority of residential diving boards are usually designed to have a useful life of seven to ten years in moderate to low use swimming pools. If your pool's diving board is known to be over ten years old, our team strongly recommends you consider replacing it for safety reasons. No matter what type of diving board you have, you want to make sure it is in tip-top shape and being used safely to prevent any accidents or injuries.
How Do You Remove A Diving Board?
You can remove your diving board by first unfastening the buttplate, lockwashers, nuts and flatwashers using a wrench (the "buttplate" is the part that securely connects the diving board to the wood plank that is anchored into the ground). When you do this, make sure to have a friend or family member holding the other end of the diving board to it does not crash into the pool once unfastened. Once it is unfastened, simply lift the diving board out of the mounts. Voila!
When Was The Diving Board Invented?
Although the first Douglas fir diving board was made by S.R.Smith, LLC, in 1932, the first carefully engineered and highly scientific Duraflex diving board debuted in the 1960 Rome Olympics,. The board was designed by Ray Rude, a self-taught engineer and high school dropout from North Datoka. In 1969, The Maxiflex board was introduced, having an aluminum extrusion that is tapered on both the back and the tip end of the diving board, which helped increased its flexibility and lift.
Our Conclusion on The Best Diving Boards
There's nothing better than leaving the stress of the week behind to sunbathe beside your pool. You might even be in the mood for a dive or two. Of course, you can't do that properly without choosing one of the best diving boards in the market.
Wondering about our favorite? We're proud to announce that the S.R. Smith 66-209-268S2-1 Fibre-Dive Replacement Diving Board is our top pick.
We loved its sturdy build and high-quality materials. Also, no matter how wet your feet might get, its sanded tread should keep you from slipping. And let's not forget that it's available in 3 different sizes to choose from: 6-feet, 8-feet, and 10-feet.
Last but not least, it's quite easy to install on your inground swimming pool. With an informative installation manual and anti-corrosion hardware included, it should be a quick task. However, if you're on a budget, you might want to take a look at the Inter-Fab DB6BW Diving Board Replacement instead.
In addition to one of the best diving boards for home swimming pools, we also recommend you get yourself some awesome swimming pool rafts as well to help make your swimming pool the fun and peaceful escape it should be.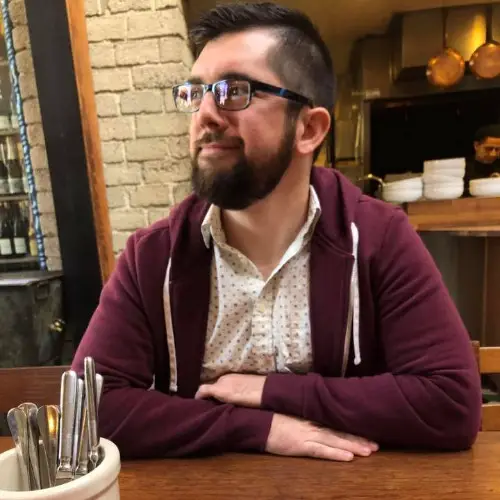 Hello, I am a writer and marketing specialist in Kansas City, MO. My love for swimming pools started as a child when I would visit my aunt & uncle's inground swimming pool on a frequent basis over the summer. Since then I have taught swimming lessons at a Boy Scout Camp, participated in the full setup, installation and maintenance of my father's inground swimming pool, as well as enjoyed constantly researching everything there is to know about swimming pools for 5+ years. I enjoy all water related sports, being part of the online swimming pool community and always learning new things!