Wondering how much algaecide you should put in your pool? We can help!
The growth of algae is a persistent problem that many pool owners find themselves facing.
Whether from the time of year or lack of maintenance, when algae decides to rear its ugly head, it does so by releasing little spores that land on the surface of the water, that are usually deposited by the rain.
If you're suspecting that your pool is currently suffering from algae infestation, then it's important to make sure that you deal with the problem as soon as it arises.
Some of the most common signs of algae are slimy patches on the surface and walls, as well as green, yellow-hued water.
If left untreated, algae can quite easily begin to thrive in the water and spread like wildfire – making it extremely hard to get rid of.
Luckily, though, algaecide is a super effective way to get rid of algae from your pool's water for good, and in this article we're going to show you how to correctly use it.
Let's jump right on in!
How Much Algaecide Should You Put In a Pool?
Regardless of whether algaecide has been a part of your pool maintenance collection for as long as you can remember or you're planning on trying it out for the first time ever – even the most experienced of inground pool and above ground swimming pool owners can become confused when it comes to deciding how much algaecide needs to be put in their pool water!
As a general rule of thumb, it is generally considered that standard algaecide should be added to the pool water at a rate of around 12 ounces for every 5,000 gallons of water, otherwise you're going to find that you're using far too much algaecide in your pool.
As a side note, it's important to note that the guidance above should only be used as a guideline for how much algaecide you should put in your pool to make sure that you don't accidentally use too much.
For the best results, we strongly recommend that you make sure to thoroughly read through the owner's manual (which usually will have come along with the purchase) so that you are able to follow instructions that are tailored to your particular kind of algaecide.
If you don't have an owner's manual to hand and are feeling confused about how much algaecide should be used on your pool water, you could also reach out to the manufacturer's helpline or online customer service team, who will be able to help you learn how to correctly use algaecide to get rid of algae growth. Algaecide, like all pool chemicals, needs to be used appropriately and in the right amounts.
How To Properly Use Algaecide: Step-By-Step
So, now that you know what the optimum amount of algaecide to use is, it's still important to make sure that you're aware of how to properly use it, as algaecide can sometimes be totally ineffective if it hadn't been used properly. 
Step 1: Choose The Right Algaecide
First things first, you're going to need to make sure that you are using the correct algaecide intended for your pool.
If you're not already aware, there's a great variety of different algaecide products available on the market that are designed to treat different types of algae.
For this reason, it's important to make sure that you're using an algaecide in accordance with the type of algae that you have.
To give you an example of this, if you happen to have unsightly bright yellow algae in your pool, then you will need to make sure that you're using a copper-based algaecide.
Alternatively, if you have dark green algae, then you should make sure that you're opting to use a white algaecide. 
By making sure to use the correct algaecide product, not only will you be ensuring that you're going to be able to effectively get rid of the specific algae in your pool, but you'll also be ensuring that you aren't wasting any money on an algaecide product that might not work or be as effective as it should be. 
Step 2: Decide How Much To Use
After you have selected the correct algaecide for your needs, you will now be ready to begin preparing to use your algaecide in our pool.
In line with the advice we have already given you above, we strongly suggest that you take the time to thoroughly read through your owner's manual before adding any solution to your pool, as it is important to keep in mind that algaecide solution will likely differ slightly depending, on the brand who has made it, as well as the overall quality of the algaecide in question, too.
Just like we've already mentioned above, the correct dosage of your algaecide will very much depend on what the manufacturer of the algaecide suggests to you, as well as the overall size of your algae-infested pool. 
Step 3: Add The Algaecide To Your Pool Water
So, after you've prepared your pool and your algaecide is ready to go, all that will be left to do is to begin adding the algaecide to your pool water.
For the best results, we strongly recommend that you make sure that you're pouring the solution across several different spots of your pool.
Though it might be tempting to just pour the whole solution in one go (especially if you have a water filter), making sure that you're evenly distributing your algaecide across the entirety of the pool will help to ensure that no areas are left untreated. Read more about how pool filters work here!
Want more info on using algaecide in your swimming pool?
Check out the video below!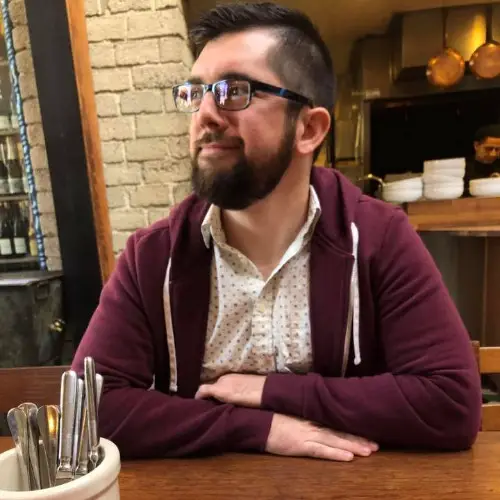 Hello, I am a writer and marketing specialist in Kansas City, MO. My love for swimming pools started as a child when I would visit my aunt & uncle's inground swimming pool on a frequent basis over the summer. Since then I have taught swimming lessons at a Boy Scout Camp, participated in the full setup, installation and maintenance of my father's inground swimming pool, as well as enjoyed constantly researching everything there is to know about swimming pools for 5+ years. I enjoy all water related sports, being part of the online swimming pool community and always learning new things!