There's a swimming pool that I need to drive two hours to reach, knowing that there's another one five minutes away from me. Interestingly, I realized that I commute gladly, and take the long drive to enjoy my weekly swim.
During one of these long drives, I found myself wondering, what's so special about this faraway pool? And when were swimming pools even invented? What has been the history of swimming pools over time?
The answer to the first question was easy; this pool is familiar since I spent my childhood splashing in it, it's extremely well designed, and all my friends are there. As for the story behind when swimming pools were invented, that is more of an interesting tale.
Lets Dive in!
The Ancient Egyptian Sculptured Swimming Pools
The ancient Egyptian civilization is among the oldest and richest in human history. The Egyptian people settled by the Nile around 7000 BC, according to most accounts, while some theories extend that date to 9000 BC.
They were known for their brilliance in building unique structures from pyramids to flood-proof cities. It's also worth noting that they showed great interest in sports and reached admirable levels of excellence in these athletic endeavors.
It's not surprising then that they built swimming pools to teach young princes and cadets the arts of swimming. In addition to installing swimming pools in noble men's mansions. There are several sculptures that detail the basic strokes of swimming, as well as a symbol for the pool.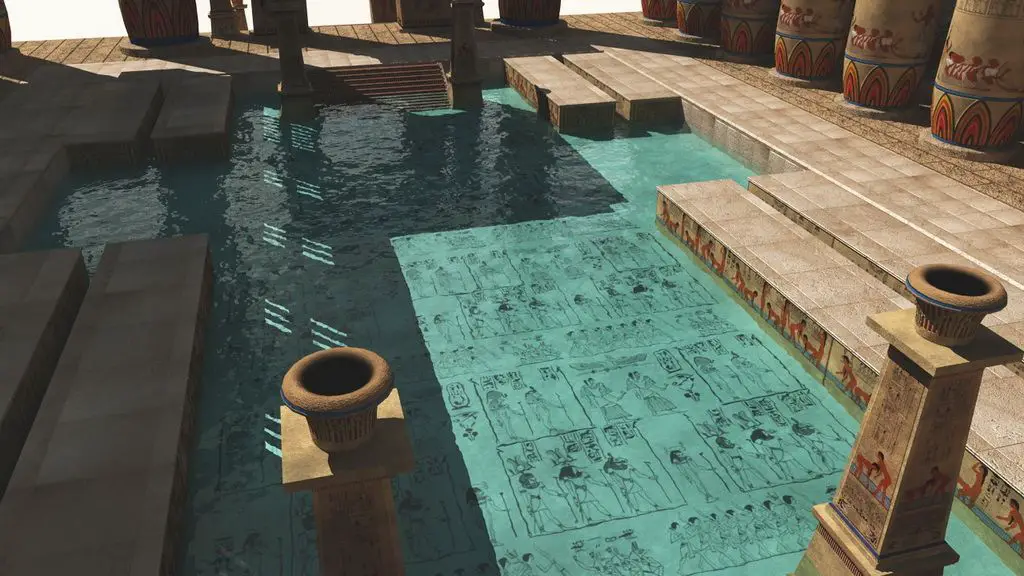 The Great Bath of Mohenjo-Daro
The Indus Valley civilization also goes back to ancient times, from around 3000 BC to 1900 BC. Its rule extended over huge geographic areas, covering modern-day Afghanistan, Pakistan, and Northeast India.
The Great bath Of Mohenjo-Daro was excavated in 1926, and it garnered plenty of attention due to the immaculate nature of its structure. It measures almost 900 sq feet, has stairs on both sides, a set of rooms presumably for priests, leak-proof bricks and mortar, and an opening assumed to be a drain.
Most scholars believe that this swimming pool was created for religious reasons, where rituals of cleansing and renewal were carried out.
The Greek Palaestrae
The Greeks reached the pinnacle of their historic prominence from 2700 BC to 479 BC. They were extremely influential on almost every country of the old world, owing to the expansions of Alexander the Great. Rome is probably the most affected by their culture, and there are endless similarities between the two rival civilizations.
Swimming pools were created to train young men and provide them with athletic and military skills. The Greek Palaestrae were similar to our modern day gyms, and they were readily available in most neighborhoods.
The main activity in Palaestrae was wrestling, but these centers also offered cultural and recreational services. Swimming pools were integral in the larger ones. They also had cold and hot baths, and that too is copied in Roman structures.
The Roman Piscina
The Romans were rather creative and indulgent in their tastes, so they invented a swimming pool that contained decorative fish. This was mainly built for emperors, but the fad soon infiltrated the houses of the affluent and influential nobles.
The Roman Piscina was also imitated in other countries, and one such relic was found and restored in Thomas Jefferson's home near Charlottesville.
Gaius Maecenas' Heated Pool
Gaius Cilnius Maecenas lived from 70 BC till 8 BC, and within this time he managed to rise to the epitome of political and military power.
He was a close friend and advisor of the Roman emperor Augustus at a time of raging wars and unrest. And at the same time, he was a dedicated patron of the arts. Two of his favorite writers were Virgil and Horace, while Seneca stood on the opposite side, often throwing shade on Maecenas' extravagant lifestyle.
The heated pool in his estate on Esquiline Hill was among many luxurious features, that are still stunning even in our day and age.
Britain's 19th Century Pools
The Brits are famous for their love of hunting, polo, and boating. The latter required advanced
swimming skills, and that wasn't always attainable due the roughness of the rivers and harshness of the weather.
In 1837 a few indoor swimming pools started popping around London. The Maidstone Swimming Club was built in 1844 and it still survives. It demonstrates the rich heritage of that athletic institution.
The Olympic Swimming Pools
The first Olympic games were held in Athens in 1896, and they featured 43 events. Among them was swimming.
The huge 164 feet in length x 82 feet in width x 6 feet in depth swimming pools dedicated to these competitions were a novelty at the time. That didn't last too long though, as several countries adopted that standard, and Olympic-sized pools became a staple in most clubs.
Moreover, the sport itself was becoming increasingly popular, as young athletes dreamed about reaching stardom and becoming Olympic champions.
Pools from Hollywood to Backyards
By the end of World War II and the great depression, everyone was keen on re-inventing life. The big screen with its stars, scenes, stories, and even scandals captured the people's imagination.
It was then that actors and actresses became idols, and their pretend lifestyles were dreams worth following.
In 1952 MGM released the movie Million Dollar Mermaid, where Esther Wiliams showed off her swimming capabilities, and more than a few picturesque swimming pools. The story inspired millions of viewers, and also caused a boom in swimming pool sales. This time, it was for houses, rather than clubs or public utility facilities. This made both the inground swimming pool and above ground swimming pool mainstream.
Modern Day and Futuristic Pools
Innovation never stops. And we currently have all sorts of materials and building techniques for pools. There are even pools with mighty waves, waterfalls, and luxurious jacuzzi. Some pools broke records with how big or deep they are.
Infinity pools are all the rage, and there are also the transparent Plexiglass varieties. These aren't for the faint of heart though!
My favorite will always be the swimming pool where I spent my childhood.
Our Conclusion On The History of The Invention of Swimming Pools
There was a chronology of many efforts to invent various forms of swimming pools. Whether it's an essential skill that military cadets should have or an athletic aspiration that many young people possess, swimming is an amazing and beneficial activity.
The multitude of swimming pools in homes, clubs, hotels, schools, spas, gyms, and rehabilitation centers have deep roots in history. It might not be easy to pinpoint the inventor of these structures, but we can trace how swimming pools developed from one era to the next.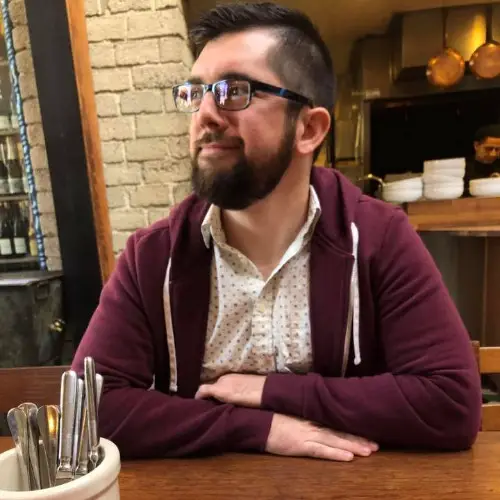 Hello, I am a writer and marketing specialist in Kansas City, MO. My love for swimming pools started as a child when I would visit my aunt & uncle's inground swimming pool on a frequent basis over the summer. Since then I have taught swimming lessons at a Boy Scout Camp, participated in the full setup, installation and maintenance of my father's inground swimming pool, as well as enjoyed constantly researching everything there is to know about swimming pools for 5+ years. I enjoy all water related sports, being part of the online swimming pool community and always learning new things!