Wondering what to do with your old swimming pool? We have some options to consider!
Swimming pool owners initially ask questions like; how much time does it take to build a pool? How long does it last? What kind of maintenance should I expect? These questions are common when building or buying a new swimming pool. Once you have hopefully had your pool for years and years of enjoyment, you may began to wonder what to do with your old swimming pool, and whether you should repair it, replace it, or repurpose it.
Swimming pools can be great investments because they provide a safe place to relax and enjoy the outdoors with your family and friends. Inground pools can also add value to your home. However, they require regular upkeep and maintenance to ensure their longevity.
Luckily enough, though, if you happen to have an old swimming pool, you might not need to throw in the towel and get a new one installed. In fact, as it just so happens, there are a variety of ways that you can spruce up an old swimming pool, and this is where we come in to lend you a helping hand!
Below, we are going to be talking you through what to do with your old pool, and whether or not your old pool should be replaced. We will also share some ideas with you on how to give your old pool new life if you don't want to replace it with a new pool or simply fill it in with dirt or cement.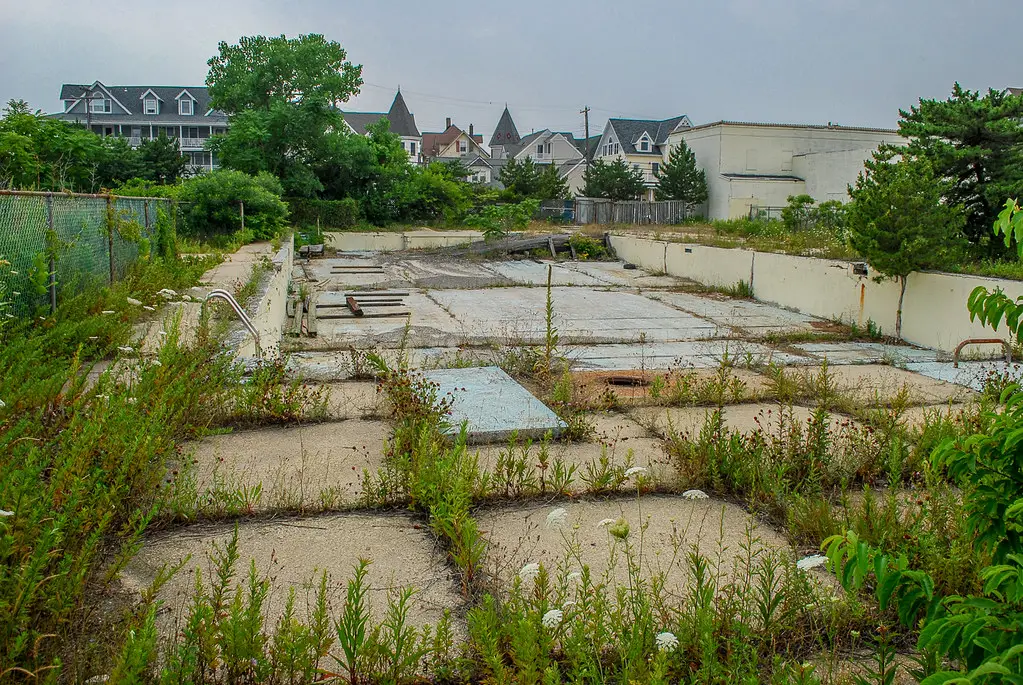 Lets dive in.
Should You Replace Your Old or No Longer Used Pool?
Before you decide what to do with your old swimming pool, you should first take a moment to decide whether or not your swimming pool will need to be repaired, replaced, or repurposed.
One of the best ways that you can do this is to first consider what type of swimming pool you have, as some are more durable than others. Let's break each type of swimming pool down below:
Above-Ground Swimming Pools
These are typically made from concrete and can be constructed in many different shapes.
Above-ground pools usually cost less than other types of swimming pools. They are easy to install but need constant maintenance. They can also leak if not properly installed, but usually don't require any big yard excavating.
Inground Swimming Pools
Inground pools are permanent fixtures that are buried underground. They are generally much more expensive than above ground pools.
Inground swimming pools are less likely to leak and can be easier to maintain, but they are harder to install and may require professional help.
Hybrid (Partially Inground) Swimming Pools
These type of pools combine elements of both above-ground and below-ground pools. They offer the best of both worlds. They can be built quickly and easily, but they also require some maintenance.
Depending on the condition of the pool, you can choose between repairing the pool or replacing it completely.
Tips For Repairing & Replacing Your Swimming Pool
Repairing an old swimming pool involves fixing any leaks and cracks. You can use epoxy resin to fill holes and cracks in the walls.
You can also apply polyurethane foam insulation to prevent heat loss. Replacing an old swimming pool requires removing the entire structure.
You can either buy a brand new pool or hire a swimming pool contractor to build a custom replacement. Both options come with pros and cons.
For example, if you do want to start over from scratch, then the average cost to build an inground swimming pool is roughly about $50,000.
This includes everything from excavation to installation. Labor costs will vary widely based on where you live of course.
For example, a contractor in New York City could charge around $100 per hour while one in rural Alabama might only charge $10-$15 per hour.
As a bonus side note, you can often save money by hiring a general contractor who specializes in construction.
They can negotiate better prices with manufacturers and contractors If you own an older pool that needs repairs, there are plenty of options available.
How To Repurpose An Old Swimming Pool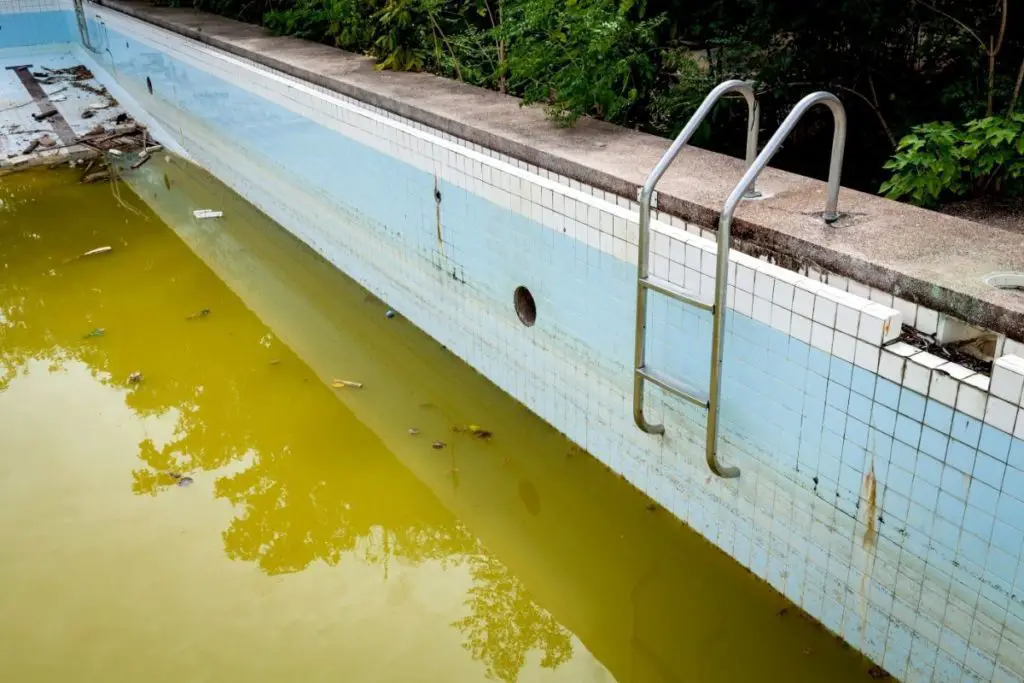 If you don't want or need to repair or replace your old swimming pool, then we think that you'll be pleased to hear that there are a variety of ways that you can repurpose your current one. Let's check out some ideas below:
Garden Pond
If you have an old swimming pool in need of rejuvenation, then one way that you can repurpose it is by converting it into a garden pond.
You can remove the swimming pool liner and dig out the dirt surrounding the pool. Then, you can lay down gravel and plant flowers, and add the water to turn it into a pond. If you wanted to, you could even add fish!
Large Hot Tub
If you no longer want to have a swimming pool in your backyard but you would still like to enjoy water leisure activities in your spare time from the comfort of your own home – then you might wish to transform your old swimming pool area into a hot tub!
To convert an old swimming pool into a hot tub, remove the existing plumbing and replace it with a spa kit. Install a pump and heater to make sure the water stays warm enough.
Want to repurpose your old swimming pool in another way, but still want to add a hot tub? Consider getting one of the top-rated inflatable hot tub options to add to your backyard as well!
Party Patio Area
Another way that you can transform your old swimming pool is by turning it into a cool sunken patio area!
Believe it or not, sunken patio and lounge areas are becoming more and more popular, and will only require you to install stairs so that you can get in and out easily.
Outdoor Work Or Studio Space
Last but certainly not least, another way that you can transform your old swimming pool area is by converting it into a sunken work or studio space.
If you're interested in doing this, then you will need to install a roof and all of the amenities needed to turn it into a functioning workspace – including lights and heating.
Once you have done this, you will then be able to use the space for whatever you like, such as a studio space, an art space, an office or even a home gym!
Our Conclusion on What You Can Do With Your Old Swimming Pool
Now that you have taken the time to read through this article, we're hoping that you now have a much better understanding of what to do with your old pool and some ways that you can repurpose your old swimming pool to give it new life!
From turning your swimming pool into a peaceful garden pond, all the way to converting your older pool's space into a relaxing hot tub – there are endless ways that you can spruce it up and transform your old swimming pool into something new!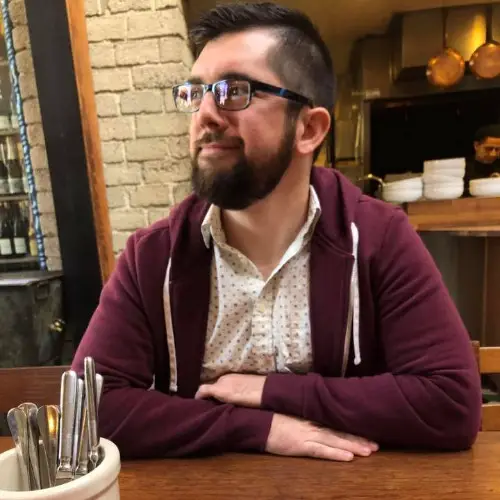 Hello, I am a writer and marketing specialist in Kansas City, MO. My love for swimming pools started as a child when I would visit my aunt & uncle's inground swimming pool on a frequent basis over the summer. Since then I have taught swimming lessons at a Boy Scout Camp, participated in the full setup, installation and maintenance of my father's inground swimming pool, as well as enjoyed constantly researching everything there is to know about swimming pools for 5+ years. I enjoy all water related sports, being part of the online swimming pool community and always learning new things!