Teaching your dog to swim in a pool is a great way to keep him/her safe and healthy in the water.
It's also a fun activity for you and your pet, so it makes sense to get started on this important skill as soon as possible. If you have never taught a dog to swim before, it can be difficult to know where to start.
The first step is to make sure that your dog has basic contact with water. You can do this by making bath time super fun! You can play with toys in the tub, or even get inside with your pet! Utilizing a durable kiddie or toddler swimming pool can be a great option as well to get them used to water in a swimming pool.
This article will be guiding you on how you can teach your dog to swim in a pool with a few simple & easy steps. Let's get into each step now and finish with some guidelines on swimming pools and dogs.
1. Make Sure Your Dog Has A Properly-Fitting Life Vest (Flotation Device)
If your dog is new to swimming, you should make sure they have a canine life vest that fits their size.
This will ensure that if they do become separated from you during their time in the water, they are protected. 
The buoyancy will also reassure your dog and make them feel more confident and safe in the water.
If your dog does not already have one, you can purchase an inexpensive life jacket at any pet store.
2. Choose A Quiet, Calm Spot For Their First Swim Lesson
When you are teaching your dog to swim, it is best to choose a calm area. Avoid areas such as public pools, lakes, rivers, and beaches.
Eventually your dog will most likely enjoy swimming at these locations, but if you're at the learning stage, these locations tend to be loud and noisy and could scare your dog. 
Choose a quiet spot near your home instead. Make sure there is plenty of room for your dog to play around while they learn. 
You could start with an outdoor paddling pool or even a bathtub if your little pet is small enough. 
3. Swim With Them In Shallow Water First
The first thing you want to do when teaching your dog to swim is to make sure they are comfortable in shallow water.
If your dog is afraid of deep water, you'll need to work slowly through each level until they are able to handle the deeper depths.
As long as your dog doesn't panic, you shouldn't have any problems. 
If they manage to follow you into the shallow water, reward him/her with a treat. Positive reinforcement is key when it comes to this. 
4. Gradually Move Them To Swimming In Deeper Water
Once your dog has mastered the basics of swimming in shallow water, you can begin gradually increasing the depth.
You can do this by slowly moving from the shallow side of a pool to the deeper side.
Again, positive reinforcement is essential here. Keep holding them by their lead or life jacket, so they know you've got a hold on them. This will help them feel reassured.
If your dog starts panicking, don't force them to go further than they are ready. Instead, back up and give them another chance to practice later. Having a quality dog ramp for your pool can also be a good accessory to have to help your dog get in and out conveniently.  
How To Keep Your Dog Safe While Swimming
As much as we'd all love to take our dogs out for a dip every day, it's important to keep safety in mind.
Here are some tips to keep your dog safe while they're swimming:
1. Never leave your dog unattended in a pool. Even if they seem fine, you still need to pay attention to them. 
2. Keep your swimming practice lessons short. If you are in the water for a long period of time, your dog could consume too much water, which could lead to illnesses.
3. While in the water with your dog, be sure to play with toys such as discs and softballs to reduce the amount of water they ingest. Some dogs get very excited when they see water, even if they don't know how to swim.
4. While your dog may be able to swim well in shallow water, jumping into deep water can be dangerous. If your dog jumps into deep water without being taught how to swim properly, he/she could end up drowning. Do not let your dog jump into deep water unless you are confident that he or she can swim safely in both the shallow and deep end of the swimming pool.
5. Use caution when using a flotation device. Many people use floating devices like inner tubes or inflatable rings to teach their dogs to swim. However, you must be careful with these devices, and you must ensure your dog does not chew on them as they could eat them, and they can be dangerous. If you decide to use a flotation device, only use one that is designed specifically for training purposes. Some floats come with handles, but others do not. You should never use a toy or other object that was not intended for training.
6. Teach your dog to stay calm when faced with water. Dogs who are scared of water often become agitated and start barking at the water. They also tend to thrash around more, which makes learning how to swim harder. By reducing your dog's fear of water, you can help them learn how to swim better. You can do this by gradually giving them exposure to water in your pool, for example. Each time they get closer, give them a treat. You could also swim in the water while your dog watches and express that you are having a nice time. If your dog sees that you are safe in the water, this fear may subside. 
Water Toxicity & Your Dog
You must always be wary of the conditions of the water you are teaching your dog to swim in.
If you are using a chlorinated pool, you need to make sure you have enough fresh water available, so your dog won't begin drinking the chlorinated water to help his/her thirst. We recommend knowing the basics of how to stop your dog from drinking pool water before starting their swim lessons.
You should also give your dog a bath after their swimming lessons, as chlorine can dry out their skin and fur. 
Sun Exposure & Your Dog
Just like humans do, your dog also needs to be protected from sun exposure while swimming.
Beneath their fur is skin, and this can be damaged by too much sun exposure. If you're teaching your dog to swim, you should use some sunscreen on them that's designed for dogs to prevent them from getting a sunburn.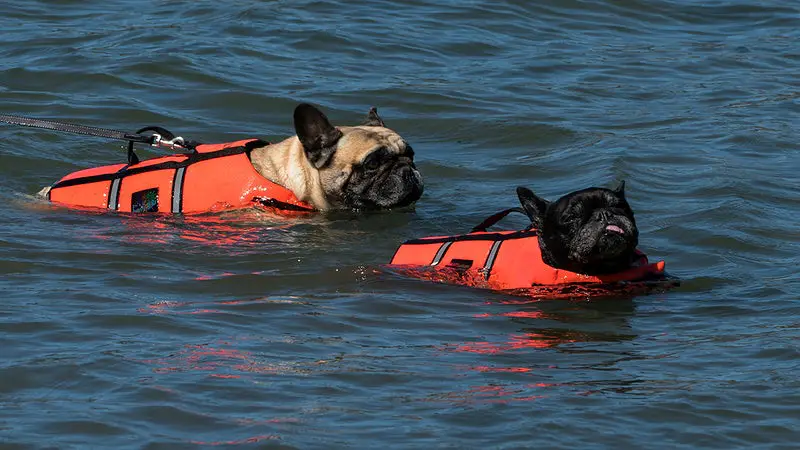 What If My Dog Doesn't Like To Swim?
While some dogs love the water and find swimming fun and enjoyable, there is that chance that your furry friend may not, and this is okay. 
However, this may have you wondering how you can cool your pooch down when it's hot outside if they don't like swimming.
There are a number of ways you can do this, and they don't involve coercing your dog into your pool, resulting in a serious doggy tantrum. 
You could purchase a very small, shallow paddling pool, so your dog can lay in some water to cool itself off, or check out our reviews of the top swimming pools for dogs for some ideas.
Having them lick some ice cubes is also a great way for them to cool off – it'll also keep them hydrated. 
Ensuring the water they are drinking throughout the day is extra cool is also a good way to ensure they don't overheat. 
Placing a fan where they like to lay down is also a great idea. You should also make sure they spend most of their time in the shade. 
Final Thoughts On Teaching Your Dog To Swim In A Pool 
Teaching your dog to swim in a pool takes resilience and patience.
You must also use positive reinforcement and encouragement, as these will go a long way with your furry friend. 
You must also not push your dog too much. If you notice they are resisting a lot, they could be very scared of the water, so you may need to try some other approaches to help them face this fear if that is the case.
As mentioned in this article, this may involve a 'baby steps' approach, getting them used to the water slowly. You should also make sure they aren't drinking the water from the pool, especially if it is chlorinated, as this could make them seriously ill. 
While it does sound like hard work, knowing how to teach your dog to safely swim in a swimming pool may all be worth it, as your dog is very likely to take to the water and enjoy having a splash around with you and any other of its dog friends! 
Check out the video tutorial of how to teach you dog to swim in a pool as well!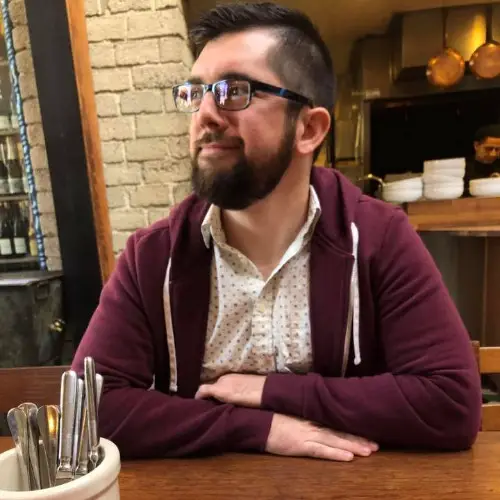 Hello, I am a writer and marketing specialist in Kansas City, MO. My love for swimming pools started as a child when I would visit my aunt & uncle's inground swimming pool on a frequent basis over the summer. Since then I have taught swimming lessons at a Boy Scout Camp, participated in the full setup, installation and maintenance of my father's inground swimming pool, as well as enjoyed constantly researching everything there is to know about swimming pools for 5+ years. I enjoy all water related sports, being part of the online swimming pool community and always learning new things!