Ever wondered if and how you could purify pool water for drinking (if you needed to)?
While we definitely don't recommend drinking pool water, if there was ever an emergency situation where your swimming pool had to be considered as a supply for drinking water, there are options & methods to purify & distill it in order to make it safe to drink.
Swimming pools are great places to relax after a long day at work or school. They also provide a fun place for children to play.
Unfortunately, they can become breeding grounds for bacteria and other pathogens.
If you want to enjoy your pool without worrying about health risks, you should regularly clean it, often with chemicals and treatments. Because of this, you would probably never even think of pool water as a drinking source in emergencies.
But many people do wonder if there is a way to purify swimming pool water so it is suitable for drinking, should they never be in an emergency situation. Simply put, yes it is possible, but some purification methods, like distillation, are far better than others.
We have all the answers you need in this article!
So, read on for everything you need to know about purifying swimming pool water for drinking in the case of an emergency.
Is Drinking Swimming Pool Water Safe?
Accidentally swallowing some pool water generally won't do much harm.
However, drinking it like you would a fresh glass of water is not good – you should not consume swimming pool water in large quantities, and your swimming pool should not be your primary water supply during an emergency.
Your first priority should be to fill up jugs and bottles of pool water.
This is because swimming pools contain chlorine and other chemicals that could harm you in an emergency situation. For example, pool chlorine can cause severe burns to the skin and eyes.
Other chemicals found in above ground pools and inground pools can include lead, copper, iron, mercury, arsenic, and even traces of cyanide. These chemicals can all cause serious health problems.
In addition, swimming pools may contain contaminants such as pesticides, herbicides, fertilizers, and household cleaners. All of these substances can make you sick when ingested.
So, you should never drink pool water without filtering it first.
Filters remove bacteria and viruses from the water, making it safer to drink. When planning for an emergency, after you have filled up jugs or bottles of water, the second thing you should always do is to properly filter your pool water before consuming it.
Third, you should store your pool water in a cool place.
Heat speeds up the breakdown of chemical compounds, which makes the water unsafe to consume.
Lastly, you should check your pool regularly for leaks. Leaks can contaminate your pool water, making it even more unsuitable for drinking.
What Is Present In Your Pool Water?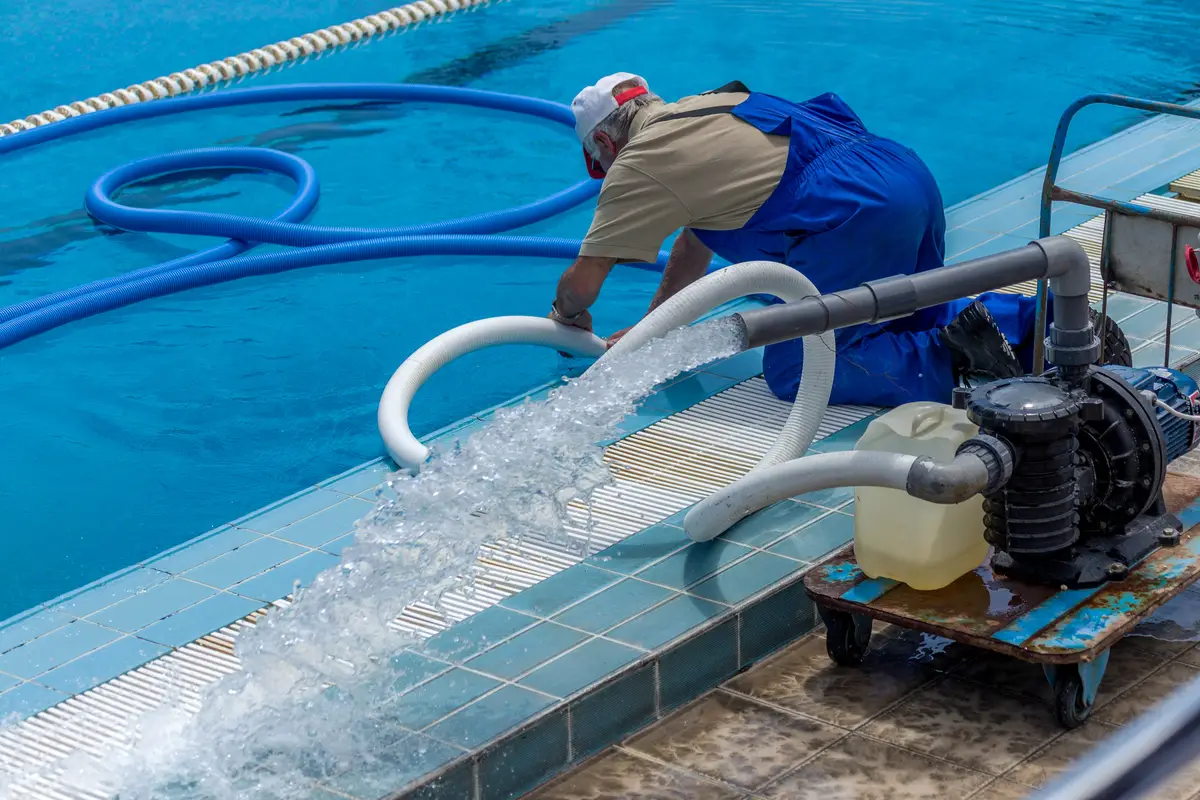 If your pool is not maintained well, then it will be contaminated with bacteria and other pathogens which are not safe to drink.
The following chemicals are heavily present in your pool water to help maintain the cleanliness of your pool, or as a result of other factors.
You should never drink pool water in copious amounts because of these chemicals:
Chlorine
Chlorine cleans your pool and makes it safe to swim in by attacking the pathogens in the water – but it is not safe to drink because it cannot tell the difference between pool water pathogens and yours. Sometimes bleach is even used as a substitute for pool chlorine.
Bromide
Bromide is an alternative cleaning solution to chlorine but works in a similar way.
Cyanuric Acid
Known as the conditioner of pools, cyanuric acid is a stabilizing agent used along with other cleaning chemicals.
Ammonia
You can find ammonia in your pool as a result of urine, sweat, fertilizers, and decaying matter like leaves.
Ammonia can be very irritating to the skin.
Chloramine
Chloramine is a result of the hypochlorous acid from the chlorine and ammonia combining.
Chloramine smells awful and can irritate the skin's mucus membranes.
Salt
Saltwater pools are a popular alternative to chemical pools. However, they still use chlorine through a salt water chlorinator to keep the pool clean.
Animal Waste
There will be some remnants of animal waste in your pool – whether it's feces from birds or fur and saliva from pets.
Would you put that in a glass with ice? We wouldn't either. Let's look at the ways you can drink pool water safely, after following a proper filtering process, in more detail.
3 Methods To Purify Pool Water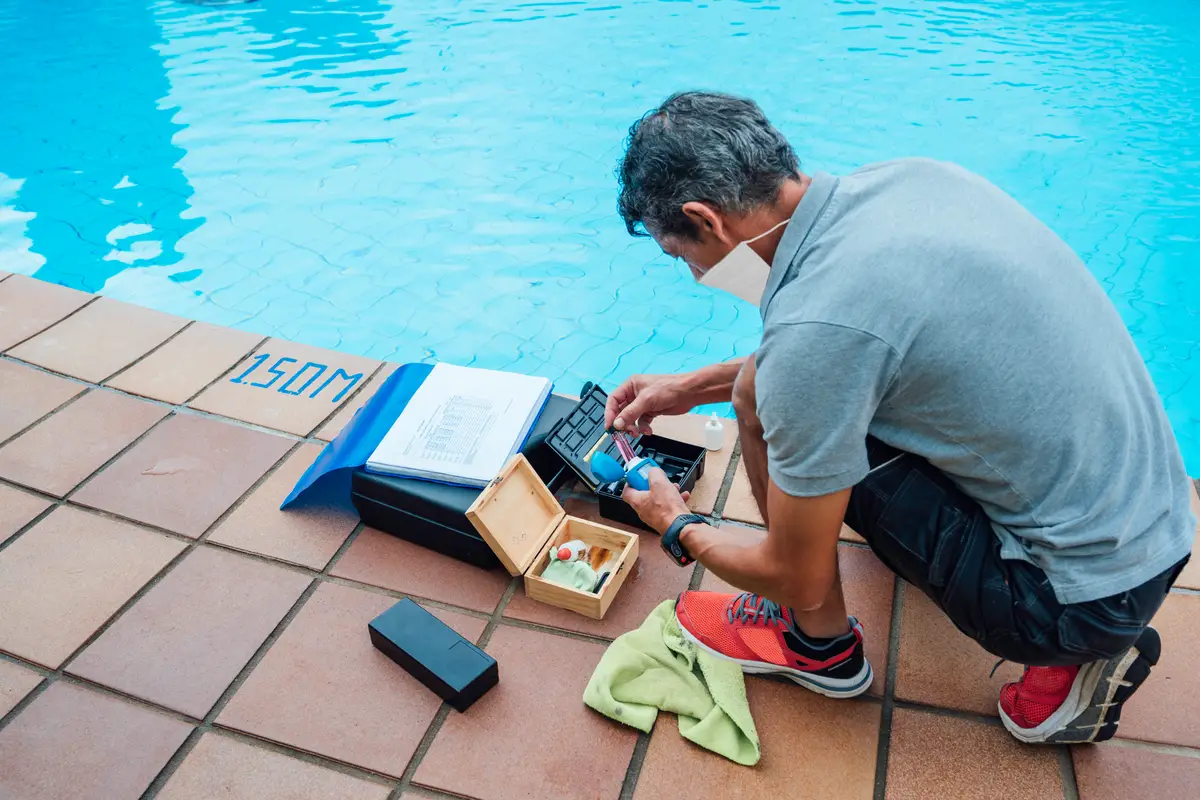 If you do find yourself in an emergency situation, then there are ways you can drink pool water safely.
UV Rays – The SODIS Method
UV rays are a way to purify pool water from chlorine, but not other chemicals, so you should still be cautious about drinking it.
UV rays from the sun will remove chlorine from pools after a few hours, provided there are no stabilizers in the pool.
If stabilizers are present in the pool, then it could take weeks for the chlorine to disappear.
It is best to place some pool water in an open-mouth container and leave it in the sun for a few days.
You can use chlorine strips to test the water, if there is less than 4ppm of chlorine, then that is a safe amount of chlorine to drink.
Additionally, the sun will help kill bacteria. The method you follow is the same as before, using an open container. Simply place some swimming pool water in a clear water bottle, leave it in the sun, and let the sunlight work its magic.
However, you still need to be cautious of other chemicals even when the chlorine and bacteria levels are down, which is why this method is not usually recommended unless it is your last resort.
Water Filters
One of the safest options would be to install a water filtration system in your pool. A good quality filter will remove all the contaminants listed above, and make the pool water safe to drink. This method can be costly and complicated however, but if you can do this properly, it works well.
Pool Water Distillation
Pool Water Distillation is by far the best method of purifying pool water.
Water distillation is a process that separates clean water from chemicals and pathogens through evaporation.
To distill swimming pool water, you will need to make a still.
A still is a device that is very simple to make and once complete, it will catch water vapors.
All you need to do is follow these simple steps!
What You Will Need For Distillation:
A source of heat – like a stove/fire. Alternatively, the sun works just fine.
A shed of metal, plastic, or glass. Make sure it is smooth.
A container – like a bottle, cup, or bowl.
A pot. Make sure that it is open-top.
Instructions For Pool Water Distillation:
First, fill the pot with pool water and make sure you support it from the ground in some way. This is so you are able to provide heat underneath it.
Next, place a piece of metal, glass, plastic, or wood over the top of the pot.
Now, cover the whole thing with another container. Make sure the lower part of the sheet is in the container. This way, the water will be collected.
Let the water cool down before drinking it.
Alternatively, you can follow this distillation method here.
Frequently Asked Questions
Check out the questions we commonly get related to purifying swimming pool water for drinking and our team's answers!
Are You Able To Use Chemicals To Purify Swimming Pool Water?
No. The best method for purifying pool water is distillation. Adding more chemicals in an attempt to remove chemicals is not a good idea.
Can You Boil Pool Water And Drink It?
No. You should find a way to filter the pool water before boiling it, such as using a still in the distillation process.
What Should I Do If My Child Swallows Pool Water?
Swallowing a small amount of pool water is generally harmless. However, if your child has swallowed pool water in excess, it is best to seek medical attention.
Our Final Thoughts On Purifying Pool Water For Drinking Use
Pool water contains a lot of chemicals, including disinfectants, detergents, and stabilizers.
These chemicals, along with other waste materials in your pool like feces and ammonia, can cause health problems if consumed in large amounts.
Therefore, it is important to know how to properly purify pool water if you ever need to drink it in an emergency situation.
You can choose to follow the SODIS or filter methods above.
However, we believe the best method for obtaining safe drinking water from your pool is by following the distillation process.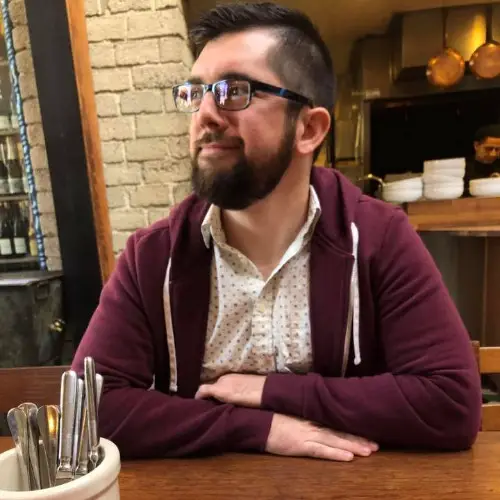 Hello, I am a writer and marketing specialist in Kansas City, MO. My love for swimming pools started as a child when I would visit my aunt & uncle's inground swimming pool on a frequent basis over the summer. Since then I have taught swimming lessons at a Boy Scout Camp, participated in the full setup, installation and maintenance of my father's inground swimming pool, as well as enjoyed constantly researching everything there is to know about swimming pools for 5+ years. I enjoy all water related sports, being part of the online swimming pool community and always learning new things!