The urge to move out of your house when the bugs move in can be overwhelming, and if we're honest and we didn't know how to deal with them, we'd seriously consider packing our bags and spending a week in a motel while the bug problem was taken care of by professionals. 
If you are besieged by waterbugs, you don't need to worry about finding the money for a week away or an exterminator, as you can usually take care of the problem yourself, but how do your get rid of waterbugs?
We're here to tell you that you an quickly, and simply, serve the waterbugs squatting in your home or your swimming pool their marching papers and send them on their way! 
Do You Have Water Bugs or Cockroaches?
Some people think that cockroaches and waterbugs are one and the same, but that simply isn't true.
And despite them being given names like the Oriental cockroach in some Southern states, don't be fooled, waterbugs and roaches aren't the same, and if you turn up at a waterbug right armed with a roach only spray, you may as well turn around and head straight back out of the door, as you'll be carrying the wrong weapon. 
So how can you tell which is a cockroach and which is a water bug?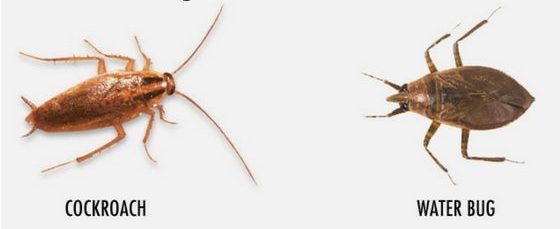 It's actually incredibly easy, as cockroaches are darker and have short legs and are usually around two inches long, while water bugs have an inch-long brown, oval body and long legs that end in sucker-like feet.
It's the combination of their large feet and long legs that helps to disperse the weight of their body, which makes it possible for them to "balance" and walk on water without breaking the surface tension. 
Waterbugs strut across water and roaches float, so if you're in any doubt about which of the two have moved in without paying rent, just watch the way they move across water, and you'll soon know which of the two you have to deal with. 
Why Do Water Bugs Come Out In The Summer?
While waterbugs live outside and can be found in or near inground and above ground swimming pools, they can come inside if they're attracted by food or damp areas. Many people only notice waterbugs in the summer because their pool is open or they are utilizing their swimming pool more (which can be a hotspot for them). Waterbugs prefer hot & humid climates, and thus, enjoy summer.
No Water, No Bugs
While we will address what to do if you have water bugs in your swimming pool shortly, if you've got waterbugs in your home, then there's a leak somewhere. There's smoke without fire, and there are no waterbugs without water. That means that you're going to need to find the leak and fix it. 
Check the most obvious areas first – the kitchen and bathroom faucets and the cupboards underneath both, the toilet, the shower, and the bath. 
Once you've identified the leak, you're going to need to fix it, and that usually involves tightening the joints and the nuts with a wrench, replacing a washer, or removing and either cleaning or replacing a section of PVC pipe.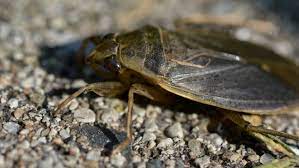 Toilets can be a little more complicated,  but it's worth remembering that, if you're not sure what you're doing, that YouTube is your best friend, and there are hundreds of easy to follow tutorials that'll guide you through each and every step of the faucet fixing and toilet repairing process. 
If there isn't a leak in any of the more obvious areas, it means that there's probably a leak somewhere in one of the pipes inside your drywall.
If there is, as much as we're inclined to say, trying to fix it yourself, patching drywall, and replacing sections of pipe isn't exactly a cakewalk and should only be handled by professionals.
Call your insurance company, explain the problem and they'll send out a certified contractor who can track the leak, fix it and patch the drywall after they've finished. 
Tested Methods For Getting Rid Of Waterbugs
Once you've patched the leak and taken away the water, you're going to need to take care of the bugs that are left, and ready to start looking for a new source of water, and there are three easy and effective ways to eliminate any bugs that are too stubborn to leave. 
Peppermint Oil – Bugs hate the smell of peppermint oil and if you spray it liberally around the site of the infestation and the leak, you'll drive them away faster than Dale Earnhardt Jr. can complete a circuit of Daytona.
It's also the most humane and easiest way to deal with the bugs that are left after the leaks have been fixed. 
Diatomaceous Earth – It's a horrible way to go, but sometimes you need to do what you need to do.
Diatomaceous earth will dehydrate any bugs that walk over it, and as it's made from fossilized remains of diatoms (teeny, tiny creatures), its edges are as sharp as a razor and it will literally cut the bugs to pieces while they're shriveling up.
Sprinkle a little around the area of the infestation and the earth will do the rest, it's also an ideal way to deal with any water bug infestations in your yard, garden, or outside your home.
Spread a couple of bags over the infestation, and just as it will do inside your home, it'll take care of the problem outside. 
Bug Spray – The easiest way to deal with any bugs is with some good old-fashioned bug spray.
Make sure that the spray you use around the area of the waterbug infestation is human and pet friendly, and once it's sprayed, the waterbug infestation that plagued your home will be a thing of the past. 
You might need to spray the area every now and again, as water bugs can be, as we've already mentioned, stubborn but they'll get the message eventually. 
What If The Water Bugs Are In My Swimming Pool, Hot Tub or Spa Area? 
Swimming pools and spas are like a red rag to a bull to water bugs, especially if the water in them has been standing for a while.
Any standing water, especially a larger body like a swimming pool spa, can and will begin to suffer from a build-up of algae and there's nothing that water bugs like to feast on more than algae. 
So, to eliminate the waterbug problem, you'll need to eliminate the algae problem and the simplest way to do that is with an algaecide.
Just follow the instructions on the bottle, pour it in and the bugs will be a thing of the past. If the bugs don't have anything to feed on, they won't have any reason to hang around in either your pool, inflatable hot tub or your spa.  
Our Conclusion on How To Get Rid of Waterbugs This Summer
We hope you enjoyed this guide on how to get rid of waterbugs if they are by your swimming pool, hot tub or sauna. Feel free to also check out our guide on how to keep bees and wasps away from your pool if they are becoming a nuisance to your swimming pool enjoyment as well!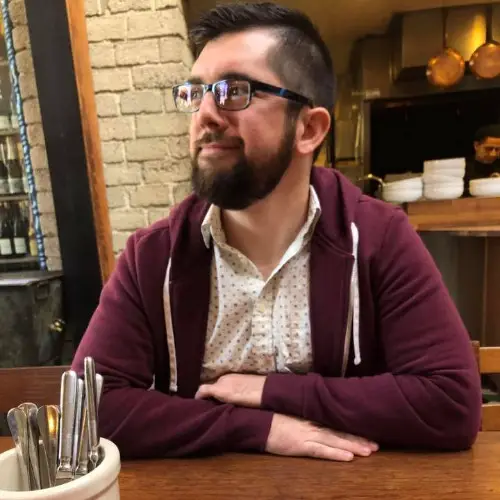 Hello, I am a writer and marketing specialist in Kansas City, MO. My love for swimming pools started as a child when I would visit my aunt & uncle's inground swimming pool on a frequent basis over the summer. Since then I have taught swimming lessons at a Boy Scout Camp, participated in the full setup, installation and maintenance of my father's inground swimming pool, as well as enjoyed constantly researching everything there is to know about swimming pools for 5+ years. I enjoy all water related sports, being part of the online swimming pool community and always learning new things!