Are you looking for some new ways to spend time with your dog? If you love spending your time in the pool, then you might want to consider adding a quality dog pool ramp to your backyard.
There are plenty of options out there, and they come in various shapes and sizes. There are many benefits to purchasing your own dog ramp for your swimming pool, whether that be a safe way to get your dog into the water without jumping in or just a fun way to take them swimming. 
The best part is that dog ramps are easy to install and can be used by anyone. They are also great for those wanting to teach their dogs to swim in a pool. Here are our top picks for the best dog pool ramps on the market today. 

For the first item on our list, we have chosen the PetSTEP original folding pet ramp, which remains one of the best dog ramps on the market today. 
This particular model comes in two different colors: graphite and beige.
It has a solid base, making it stable enough for use indoors or outdoors.
The ramp can also be folded when not in use and takes up very little space. 
This ramp is perfect for dogs who like to jump from the side of the pool, as it allows them to safely enter the water while preventing injury or drowning. 
The versatile ramp is made from durable composite plastic and can even reduce arthritis in mature dogs and pets. 
Pros
The PetSTEP original pet ramp can be folded up and stored away for later use. It is also capable of holding up to 500lbs. 
The product has been made from durable composite plastic and features a soft rubberized surface that provides a comfortable grip. 
The ramp can be easily cleaned and does not feature any sharp edges. It is also less susceptible to rust and corrosion. 
Cons 
When purchasing this dog ramp, you will also need to purchase a pool extension, which makes it easier to use in the water. 
The ramp is somewhat narrow and may not be suitable for large dogs. It can also bend under certain weights. 
Sale
Petstep Original Folding Pet Ramp, Khaki/Beige
Unique soft non-slip rubberized walking surface feels natural on paws and provides Superior Traction in all weather conditions.
No rough sandpaper or dirt-harboring carpet. Will not rust or corrode and can be cleaned with soap and water, Environment: Indoors and Outdoors
Universal non-slip grip fits all vehicles and edges while folding in half for easy storage and portability.
Unique industry-leading dimensions avoid harsh inclines and promote pet safety.
Durable composite plastic construction is long-lasting and holds up to 500 lbs (animal use only)
If you prefer something more traditional than the foldable version, then the Beavertail aluminum folding dog pool ladder is another great option. 
Originally designed for duck hunting boats, this product can be easily attached to the ladder in your pool and is quite sturdy. 
However, it is important to note that the ladder was not intended for swimming pools, even though many dog owners now use it for this function.
Despite this, the ladder still provides a durable solution for getting your dog into the water. It features an adjustable height, so you can adjust it to suit your needs. This means that you do not need to worry about it being too short or too long. It is also made from stainless steel and features rubber arms to hold it in place. 
Pros
Despite being designed for boats, this ladder can also be used in swimming pools by attaching it to the side. 
The ramp has been fitted with rubber arms, which reduce slipping and ensure the safety of your beloved dog. 
When not in use, the product can be easily stored away, as it takes up limited space and folds down flat. 
Cons 
Unfortunately, the ladder is infamous for its weak threading on the screws, which may need some DIY to save. 
The surface of the ladder is also too narrow for large dogs and can become slick with water during long periods of use.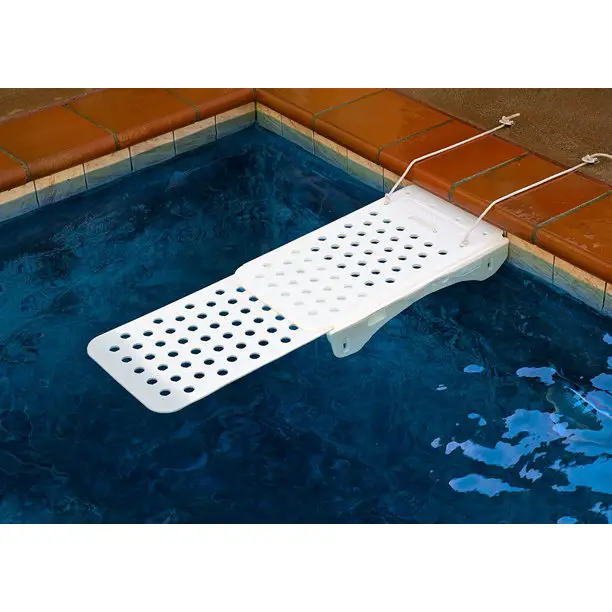 The Skamper Ramp Super is a plastic dog ramp that features a ribbed surface and drainage holes for excess water. 
Unlike the other ramps on our list, it has been specially designed for emergency escapes, whether that be in swimming pools or lakes. 
The ramp comes with a lifetime warranty and is easy to assemble.
The design ensures that the ramp fits snugly around the edge of the pool and prevents it from slipping out of position. 
As previously mentioned, the ramp also features a ribbed surface to prevent slip-ups. However, if your dog is prone to slips, you should consider using a non-slip mat underneath the ramp. 
Pros 
The Skamper Ramp Super is available in multiple sizes and is made from a durable corrosion-resistant plastic. 
The product can be easily removed from your swimming pool by flipping it over the side. It is also easy to install. 
The ramp features a lifetime warranty and is backed by customer service. 
Cons 
The ramp is rather small, but this is due to the fact that it is meant for emergency situations only. If you are looking for a larger ramp, then we recommend checking out their other products.
The extension for the ramp can bend under the weight of large dogs, which means it is only suitable for smaller breeds. 

If you are the proud owner of a large dog, then you will know how difficult it can be to get them into the water. However, the Paws and Pals Ramp is here to help! 
This dog ramp is made from high-quality materials and features a sturdy construction. The ramp can also hold up to 120lbs and can be used in both indoor and outdoor environments. 
Because of its innovative design, the dog ramp is extremely lightweight and can be easily transported for your pet.
This makes it ideal for traveling to the beach or lake. 
When not in use, the ramp can be easily folded up and stored away.
It also comes with a sturdy handle for ease of transport. 
Pros

 
The dog ramp is very portable and light, making it ideal for transporting your beloved dog to the beach or lake. 
The pool ramp includes water-resistant grip tape, which can be trimmed down to your desired shape or size. 
When in use, the product is capable of holding up to 120lbs and is compatible with both indoor and outdoor settings. 
Cons 
In some cases, the ramp has proven too steep for mature dogs. Because of this, it may not be suitable for pets with health problems and those who have difficulty climbing stairs. 
Some customers have complained about the hinge constantly freezing, which can make it difficult to store the ramp away.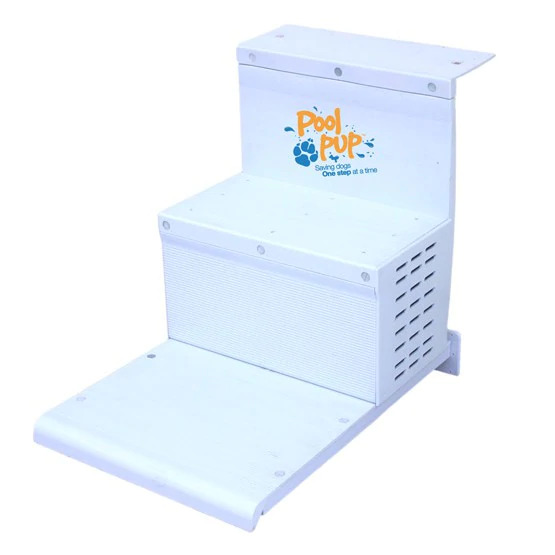 Unlike the other products we have mentioned, the Paws Aboard pool steps are actual steps that can be attached to the side of your pool. 
These steps are designed to allow your dog to climb into the water without having to jump in headfirst.
They are also perfect for older or injured dogs who cannot walk on flat surfaces. As they are designed as steps, these pool steps are more stable than ramps. They are also capable of holding up to 100lbs. 
They also include a non-skid rubber surface, which helps prevent slipping. These steps are also resistant to damage caused by chemicals and chlorine. 
Pros 
The pool steps can hold up to 100lbs and feature a unique accordion design that provides a better grip for older dogs. 
The product can be easily installed on the side of your pool and can be removed if necessary and stored away.  
The steps can be set at a steep angle depending on the depth of your pool. It also features rubber feet, which keep the steps in place. 
Cons 
Despite being designed for aquatic activities, the steps can become slippery when exposed to water for long periods of time. 

The Complete Dog Pool Ramp Buyer's Guide 
When purchasing a dog ramp for your pool, there are certain things you should consider before choosing one. Here are our top tips: 
Size 
If you plan on using the dog pool ramp indoors, ensure that it fits comfortably inside your home. For a smaller outside option, it may be worth considering a quality swimming pool for your dog, this is also a good option if your doggo is not comfortable in a bigger pool.
You want to avoid buying something that is too big because it will take up valuable space and could cause issues when storing it away. 
For the best results, we recommend purchasing a dog ramp that can be folded up when not in use.
This way, it won't take up much room , and you'll be able to fold it back up after each session. 
Material 
Dog ramps made from plastic tend to wear out quickly. If you're looking for a durable product, then choose one made from metal instead.
Metal ramps are also easier to clean and maintain. However, it is important to note that metal is also more susceptible to rust. 
The best dog ramps also feature non-slip surfaces, which help to reduce slipping accidents.
We recommend choosing a product that comes with an anti-slip coating. 
Weight 
You should always purchase a dog ramp that can handle up to 150 pounds. The weight limit depends on how many times you intend to use the ramp. 
If you own a large breed of dog, then you might need to invest in a larger ramp. On the other hand, smaller breeds usually require less support. 
Portability 
It is essential that you buy a dog ramp that folds up compactly so that you don't have to spend hours trying to find somewhere to put it away. 
The ramp should also be lightweight enough to carry around. Otherwise, you may end up tripping over it every time you go outside.  
Ease Of Use 
While most dog ramps come with instructions, some people still struggle to figure them out.
Make sure that the ramp has clear instructions available online or in its packaging. This will make it easy for you to install the ramp properly. Also, look for a ramp that is easy to assemble.
When installing a ramp, it is very important to remember to measure the width of your pool first.
Then, follow the manufacturer's instructions to determine where you need to attach the ramp. 
Price 
You don't need to spend a fortune on a dog ramp. In fact, we've found that many manufacturers offer great value for money.
As such, we suggest shopping around until you find a product that suits your needs and budget. 
Frequently Asked Questions (FAQs)
If you are interested in purchasing a dog ramp for your swimming pool, then chances are you have some questions.
Below are some of our team's answers to some of the most commonly asked questions about dog pool ramps. Enjoy! 
How Do I Know If My Dog Will Fit? 
Most dogs will fit just fine on a dog ramp. However, if you notice any signs of discomfort, then you should contact your vet immediately.
In most cases, dog ramps have been designed for all breeds.
However, larger dogs may find it difficult to climb up and down. 
What Size Does My Dog Need? 
Different breeds of dogs vary in size. Some small breeds like Chihuahuas only weigh 10 pounds, while larger breeds like Great Danes can weigh as much as 100 pounds.
Therefore, you should consider buying a dog ramp that can accommodate your dog's size. 
Do I Need To Remove My Dog's Nails Before Using The Ramp? 
Removing your dog's nails is not recommended in any situation, especially when it comes to using a dog ramp.
In most cases, dogs will use their nails to grip the surface of the ramp, which will make it easier for them to access the water.
To help them out, you can purchase a dog ramp that features a non-slip material or ribbed surface. 
Why Do I Need A Dog Ramp? 
A dog ramp helps to prevent your dog from falling into the pool. It also makes it easier for your dog to get into and out of the water.
This is particularly useful if you have a swimming pool that is too deep for your dog to touch the bottom.
Related Read: How to Stop Your Dog From Drinking Pool Water
It can also provide your pet with a safe environment to play and exercise, as they will have easier access to the pool. 
Enjoy Your New Dog Swimming Pool Ramp!
We hope you enjoyed our guide on how to choose the best dog ramp for your swimming pool! We know that choosing the right one can sometimes seem overwhelming.
That's why we've provided you with everything you need to know to make an informed decision. Now, onto letting your dog enjoy time in the pool with you this summer safely & with the convenience of a dog swimming pool ramp!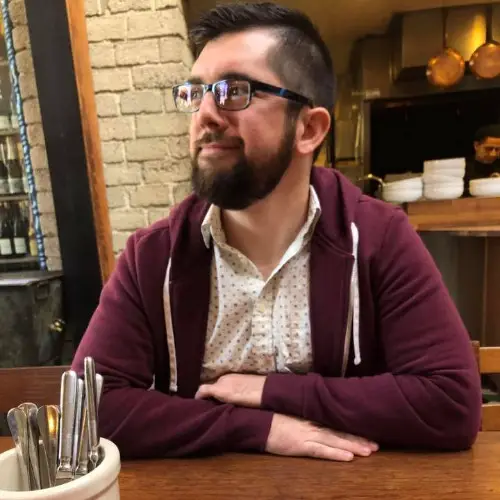 Hello, I am a writer and marketing specialist in Kansas City, MO. My love for swimming pools started as a child when I would visit my aunt & uncle's inground swimming pool on a frequent basis over the summer. Since then I have taught swimming lessons at a Boy Scout Camp, participated in the full setup, installation and maintenance of my father's inground swimming pool, as well as enjoyed constantly researching everything there is to know about swimming pools for 5+ years. I enjoy all water related sports, being part of the online swimming pool community and always learning new things!