Having a swimming pool in your backyard where you can relax with your family is one of the best things ever.
Some people think you need lots of space and plenty of money in your pocket to be able to make your pool-owning dreams come true, well we're here to tell you that's not the case! You just need to take a close look at the space you have available in your backyard or patio, decide where the best place would be for a pool to go, and draw up a budget for your new pool.
Being on a budget doesn't mean you're limited to just one kind of swimming pool either, which lead us to aggregate our top 6 backyard pool ideas on a budget!
There are many affordable pool options out there that are sure to invigorate your backyard and make your friends' jaws drop! 
Small pools in particular are now becoming more popular than ever because of how inexpensive they are to install, how little space they take up and how little maintenance they need.
Plus, a smaller pool can make your backyard look more elegant, and you can have the same amount of fun in a small pool as you can in a large one!
In this article we have everything you need to know about having a pool on a budget, as well as six great pool ideas on a budget.
We'll take you through all the factors you need to consider before installing a pool, the right pool materials to work with, and of course, pool ideas that are both beautiful and budget-friendly, and are sure to inspire you. 
Things To Consider When Buying or Building A Swimming Pool On A Budget
Checkout the main things to consider when trying to optimize your swimming pool experience on a budget!
Swimming Pool Type
There are two main types of pools to choose from.
Both of them have distinct differences that help you choose between them, especially when it comes to their structure, look, maintenance, durability and – most importantly – cost. These are in-ground swimming pools and the more affordable above ground pools, however there are several types and styles within both the in ground and above ground pool categories to consider as well. 
In-Ground Pools
This is also known as an underground swimming pool.
It is the most common type of pool to find in backyards, especially if you have a big family.
An in-ground swimming pool is beautiful and luxurious, and if your family loves to relax by the pool then it would be perfect for you.
Unlike above-ground pools though, they are the most expensive option when it comes to installation and maintenance. 
In-ground pools need to be refilled constantly, so you will have to factor the cost of water bills into your budget.
You will also have to factor in the price of the chemicals used to treat the water, and other maintenance expenses. 
However, in-ground pools are durable, and can last for years.
The average cost of building a standard in-ground pool can run into the thousands of dollars, but the price decreases the smaller the pool. 
You should also pay attention to the materials used to build an in-ground pool, as they will have a big effect on the total cost of building the pool.
In-ground pools come in many shapes and sizes, so let's take a look at them!
Concrete Pool
A concrete pool refers to the excavation needed to build the pool.
A concrete pool is made by building a steel framework, pouring concrete into it, and sealing it with a plaster coat.
This coat may be applied again if the pool is damaged and needs some serious maintenance. 
However, concrete pools are extremely durable and can be customized to your style and taste.
Still, they are an expensive option and require a lot of work to build. 
Shipping Container Pool
This is quite a modern form of an in-ground pool, and cheaper than the above option.
This is because shipping container pools are made of upcycled shipping containers.
You can find them in various designs and models. They even have hot tub partitions and clear viewing panels on their sides. 
However, shipping container pools don't have a structural wall, which doesn't make them that durable.
The corrugated walls and the wooden floors can also easily rust if they're poorly built and poorly maintained. 
Vinyl Pool
This is undoubtedly one of the most budget-friendly in-ground options. It is inexpensive, and easier to install than a concrete pool.
They're also fairly durable too, and if well-maintained can last for nearly 18 years.
However, if there is pool failure or repairs are needed then it can be costly.
These costs can add up as vinyl liners are fragile and can be punctured easily. 
Fiberglass Pool
This is another excellent alternative to a concrete pool.
It is inexpensive, durable, and can last for over 15 years if well looked after.
We highly recommend a fiberglass pool for those on a budget as it is very cost-effective. 
Above-Ground Pools
If an in-ground pool would exceed your budget you could always go for an above-ground pool instead.
They are definitely a less expensive option, they're easy to install, and normally come with a kit.
To install an above-ground pool, you can hire a professional, or you can do it yourself with little trouble if you're experienced in DIY.
Above-ground pools are also quicker to install. An in-ground pool takes weeks to get ready, but you can have an above-ground pool up and running in a few days.
You can also move an above-ground pool, so if you decide to move property you can take the pool with you! One exception to this may be the semi-inground swimming pool, which is a kind of hybrid option. While there can be some common problems or concerns with semi-inground pools, they could be a good option depending on the elevation and landscaping of your backyard.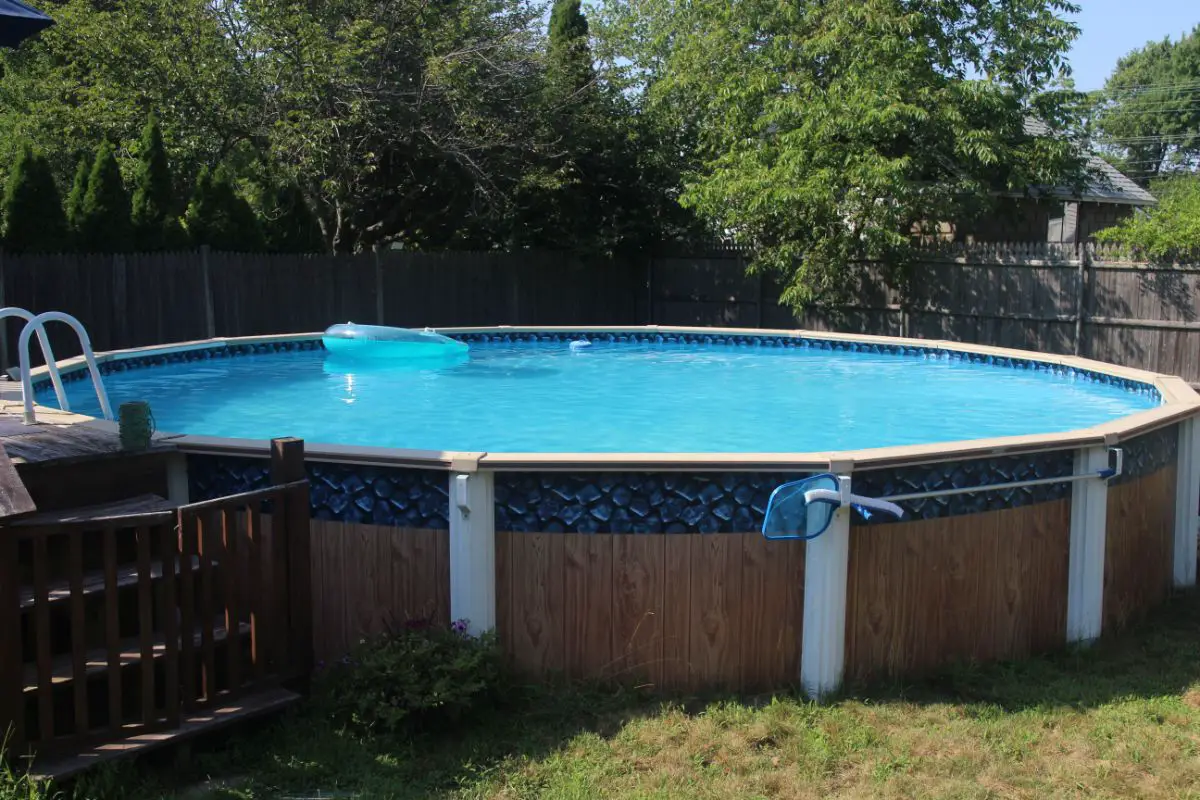 However, there are drawbacks to this type of pool.
They're not as versatile as the in-ground pool, which comes in different shapes to match different aesthetics.
Meanwhile, above-ground pools are only round or oval, which may not match the aesthetic you want and limits your options. 
Above-ground pools are also not as durable as in-ground pools, and can only last for 10 years at the max.
In terms of budget though, you can install a small above-ground swimming pool for just over a thousand dollars. 
Backyard Size And Location
Depending on where you live and how big your outdoor space is, your pool budget can increase or decrease.
Even the quality of the soil can have an impact on the construction costs.
It's a good idea to get your soil tested before construction begins, as you'll have a clear picture of any issues with your soil and this prevents you from going over budget.
Where your backyard is can also affect the construction costs. If your backyard is level, then building a pool will be a lot easier.
Meanwhile, if your backyard is steep or at a lower level it's better to go for an above-ground pool. 
Fiberglass pools come in many sizes and are also great for backyards that are not even.
Fiberglass pools can also be installed in your backyard with little disturbance. 
Pool Depth
Naturally, an in-ground pool is deeper than an above-ground pool.
But if depth isn't a huge issue for you, we recommend going for an above-ground pool.
Your Budget
If your budget is very tight, then we again recommend an above-ground pool.
But if your budget increases, there is no reason why you can't install an in-ground pool later on!
Type of Water
There are two types of water you can have in your swimming pool, and that's chlorine water and saltwater. 
Chlorine water is the most popular type of water to find in a pool, especially backyard pools.
However, saltwater pools are growing in popularity as saltwater is kinder to your skin and doesn't have the chemical smell of chlorine. 
Saltwater pools are also easier to maintain than chlorine pools, but as far as cost of installation goes, there is no big difference between the two.
Durability
An in-ground pool is more durable than an above-ground pool.
Above-ground pools are more likely to be damaged and experience wear and tear without the proper support.
Extra Features
If you would like to add extra features or more customized features such as fountains and waterfalls, integrated lights that change colors, built-in fireplaces, or anything else, then this will naturally increase the cost.
How You Use Your Pool
If you're not planning on diving in your pool, then you can opt for a shallower pool. These are easier to clean, need less water, and heat quicker than a deeper pool.
If your pool is mainly to improve the aesthetic of your backyard then all you really need is a small plunge pool.
But if you want to play games in your pool, you will need to size up, especially if you plan to play swimming pool games with adults. 
Have a good idea of what you will be using your pool for so you buy a pool that is value for money and meets your expectations.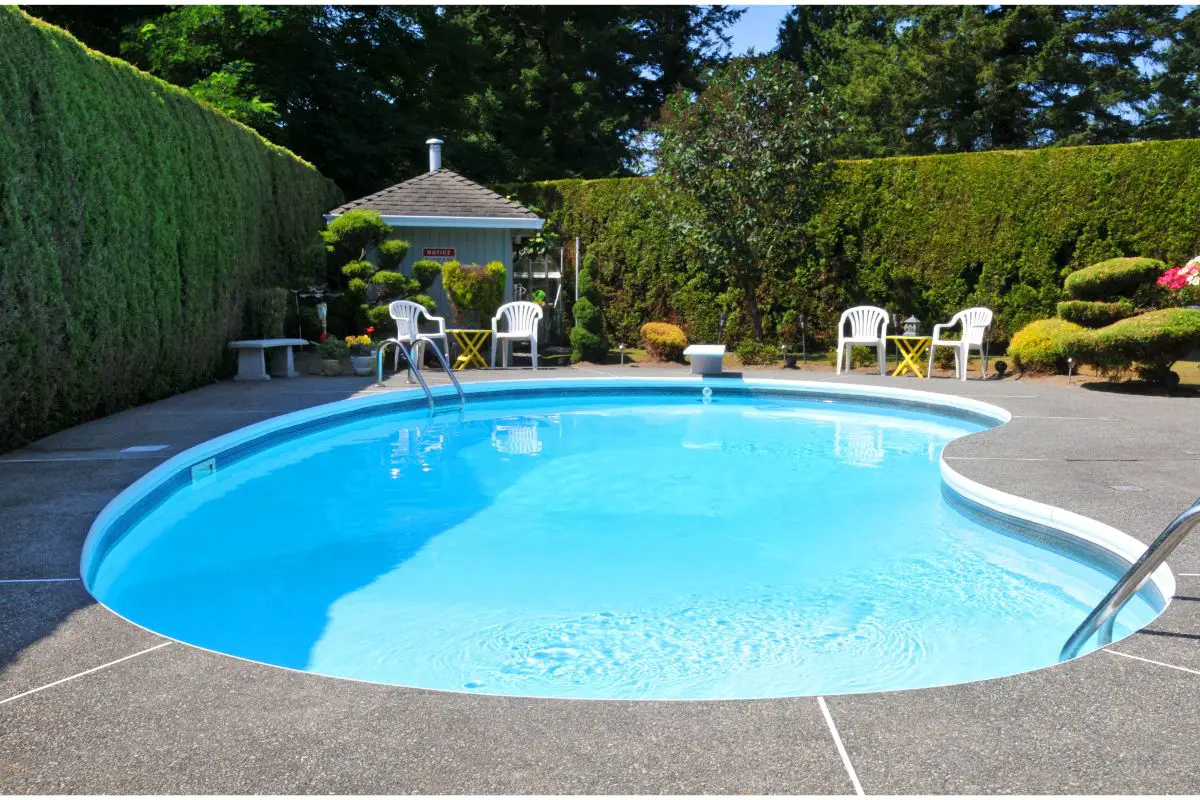 6 Affordable Swimming Pool Ideas
No matter where you install your pool, there is nothing stopping you from having a beautiful pool in your backyard. Check out our 6 favorite ideas for having an awesome home swimming pool on a budget below.
1. Mini Lap or Narrow Pool
If you love swimming and would love an Olympic-sized swimming pool, but your backyard is too small, a mini lap or narrow pool is the perfect compromise.
Mini lap pools or narrow pools are longer and are brilliantly designed to meet your needs and accommodate small spaces.
With these pools you can do laps with ease right from the comfort of your backyard, while still having space to unwind in your backyard and kick back with friends and family. 
2. Deck-Style Pool
If you have a spacious deck and are looking to utilize your deck space, then why not consider a small deck pool? What makes a deck-style pool great is that it's easy to install with little labor involved, and it's inexpensive to install too. 
When you have enough room on your deck to play with and have installed a solid foundation, you can install a pool that fits in with the pre-existing setup of your deck.
3. Small Square Pool
Compared to the more traditional rectangular pool that can take up space, a small square pool helps you save space as well as money.
Square pools can be more elegant than rectangular pools, as well as more budget-friendly.
It is also easy to install into your backyard, if you're strategic with the space available to you.
Plus, a square pool is still wide enough so you and your family can enjoy a good swim.
4. Small Indoor Pool
If there is a room in your home you're currently not using, or you have space on the first floor of your house then you can put it to good use by installing an indoor pool.
This is ideal if you would love a pool but really don't have the outside space.
However, indoor pools take a lot of labor, a lot of time (as they require a lot of planning), and can be expensive.
However, the sense of achievement you'll feel will make it worthwhile.
Plus, it will add a touch of glamour and luxury to your home.
5. Wall-Mount Pool
If you have little space in your backyard, another option is to have a small pool that can be mounted along the perimeter of your backyard wall.
However, there is a downside to these types of pools.
You will only be able to get into the pool on three sides, because one side will be mounted to the wall.
Still, it is a budget-friendly and space-saving way to have a pool in your backyard.
6. Above-Ground Pool With A Deck
If you have limited space in your backyard, why not install an above-ground pool with a lovely deck instead? This adds a touch of style to your backyard, and gives you a great spot where you can relax and have fun with your friends and family. 
It is definitely a budget-friendly option, and is one of the most ideal options for an above-ground pool.
Final Thoughts On Installing A Swimming Pool on A Budget
Having minimal space in your backyard shouldn't prevent you from adding a little luxury with a pool.
Not only does a pool look impressive in your backyard, it's a great place to relax and have fun with friends and family.
We hope that our top backyard pool ideas on a budget have inspired you to get creative with your backyard space! Check out the video below fro more inspiration and ideas on affordable swimming pool options in your yard.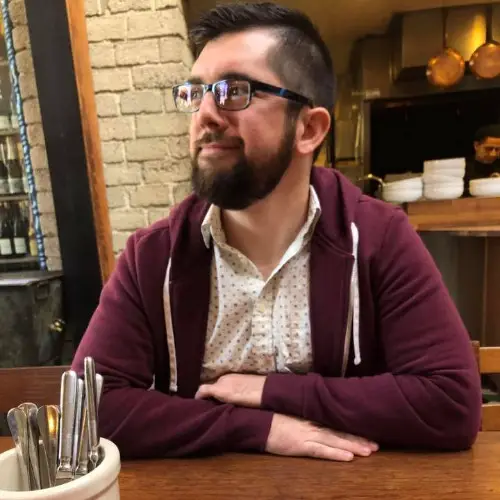 Hello, I am a writer and marketing specialist in Kansas City, MO. My love for swimming pools started as a child when I would visit my aunt & uncle's inground swimming pool on a frequent basis over the summer. Since then I have taught swimming lessons at a Boy Scout Camp, participated in the full setup, installation and maintenance of my father's inground swimming pool, as well as enjoyed constantly researching everything there is to know about swimming pools for 5+ years. I enjoy all water related sports, being part of the online swimming pool community and always learning new things!